The Department of Music at the College of William and Mary offers both private and group lessons in instrument and voice, spanning several different styles of music. Students participating in applied music work closely with our instructors to develop a unique lesson plan that fits each individual's needs and skill level.
Private Lessons | Practice Room Key Loan | Instrument Rental | Instrument Lockers
Private Lessons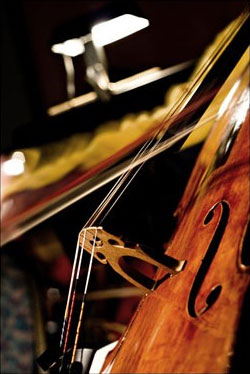 Policies and Fees
Instruction in applied music consists of one academic hour private lesson per week and one hour of daily practice for one credit per semester. Advanced students with an interest in performance are encouraged to take an academic hour private lesson once a week with two hours of daily practice for two credits per semester. Each course may be repeated for credit. Suggested repertory sheets are available for each field and level. No GER 6 exemptions are given for private music lessons. 
Fees for applied lessons come to $425 per credit hour. 
To obtain additional information about applied music lessons, students are encouraged to contact the Music Department Office at [[music]] or by phone at (757) 221-2157.
How to Register for Lessons
Note: If you are registering for lessons for the first time, please fill out the department's Applied Music Information Form and return the completed form to the Administrative/Scheduling Coodinator, Myra Borchardt or to the instructor directly. Hard copies of the form can be obtained from the wall display opposite the door to Ewell 268.
1) Review the department's Faculty Directory or the Dynamic Schedule in Banner to determine which instructor teaches a lesson in your desired field. 
2) If instructor permission is NOT required for your desired lesson and this is your first time taking applied music lessons, register yourself for the level 10 course in Banner. If instructor permission is required, email your desired instructor, including your student ID number and a sentence or two about your background (if any) in your chosen instrument, to request a space in their studio. If the professor has space, he or she will give you an override so that you may register for the course on Banner. In all cases, repertoire for the first semester will be assigned by individual student's ability. 
3) After you have successfully registered in the course, the Bursar's Office will email you to say your bill may be viewed online. Fees may be paid by mail or at the Bursar's Office, located in Blow Hall. Fees are non-refundable after the add/drop period each semester. If an applied lesson is dropped before the end of the add/drop period, you will be charged a pro-rated fee equal to 1/12 of the Applied Music fee for each lesson you received from an applied music instructor prior to dropping the course. 
4) At the start of the semester, go to your instructor's studio and follow the directions posted on his or her door to sign up for your lesson time. Instructors' studio numbers are listed on the Applied Music Bulletin Board in the second floor hallway of Ewell Hall and in the Faculty Directory. As a reminder, it is your responsibility to contact your teacher to schedule your lesson time. 
Practice Room Key Loan
To obtain a key to a specific instrument practice room, such as the percussion studio or the harp room, fill out a Studio Key Loan Form or pick up a hard copy from the wall display across from Ewell 268. Get the form signed by your applied music instructor, pay the key loan deposit at the Bursar's Office, and return the form to the Music Department Office Reception Desk. Your key may be picked up when your completed form is returned. 
Key loan deposits are returned to students at the end of each year, provided their keys is returned. If a key is not returned at the end of the semester, the Department of Music retains the deposit to purchase new keys for the practice rooms. 
Instrument Rental
To rent an instrument from the Department of Music, fill out an Instrument Rental Agreement and return it to your instructor or ensemble director. No fee will be charged for instrument rental unless an instrument is returned in disrepair or is not returned. If a fee must be charged at the end of the rental date, a hold will be placed on the student's account, keeping them from registering for the next semester's courses or graduating, until the student pays the fee or returns the instrument. 
Instrument Lockers
Students who are enrolled in applied music courses, an ensemble, and/or other music courses that require the use of an instrument are eligible to use a departmental locker at no charge. To claim a locker, fill out a Locker Assignment Agreement or pick up a hard copy from the wall display opposite the door to Ewell 268. Find the smallest empty locker with enough space to accommodate your instrument, and place your lock on it. If you use one of the largest lockers, please be prepared to share it with another student. Lockers are available on a first-come, first-serve basis. Students may not keep a locker for more than one academic year without reassignment.