Students participating in applied music lessons work closely with our instructors to develop a unique lesson plan that fits each individual's needs and skill level.
Group lessons are offered in piano and guitar. We offer individual lessons in the following instruments:
Review the department's
Faculty Directory
or the
Dynamic Schedule in Banner
to determine which instructor teaches a lesson in your desired field.
Individual Lessons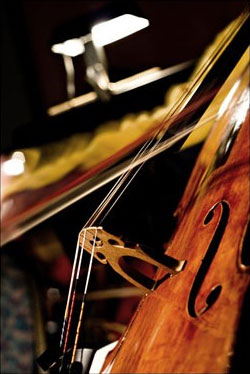 Policies and Fees
If students do not have previous college credit in the instrument of study, they will need to register for a level 1 course. Course work will be based on the student's individual skill level. Skill levels are assessed by their instructor at the beginning of the semester. 
Students may register for 1 credit (25 minute-long individual lesson per week) or 2 credits (50 minute-long private lesson per week) of individual lessons in music. Credits for lessons may be earned at any of four levels and each course level may be repeated multiple times for credit. The usual number of lessons is twelve, for a total of 300 minutes of instruction in the 1 credit courses, and 600 minutes of instruction in the 2 credit courses. 
Fees for applied music lessons are $453 per credit hour and are non-refundable after the add/drop period each semester. If an applied lesson is dropped before the end of the add/drop period, you will be charged a pro-rated fee equal to 1/12 of the Applied Music fee for each lesson you received from an applied music instructor prior to dropping the course. There are no late adds for applied lessons.
How to Register for Lessons
If instructor permission is NOT required for your desired lesson and this is your first time taking applied music lessons, register yourself for the level 1 course in Banner.
If instructor permission is required, email your desired instructor. Include your student ID number and information about your background (if any) in your chosen instrument, and request a space in their studio. If the professor has space, he or she will give you an override so that you may register for the course on Banner. In all cases, repertoire for the first semester will be assigned by individual student's ability.
After you have successfully registered in the course, the Bursar's Office will email you to say your bill may be viewed online. Fees may be paid by mail or at the Bursar's Office, located in Blow Hall. Fees are non-refundable after the add/drop period each semester. 

At the start of the semester, email the instructor to schedule your lessons time. Instructors' emails and studio numbers are listed in the Faculty Directory. As a reminder, it is your responsibility to contact your teacher to schedule your lesson time.
A scholarship [pdf] is available.