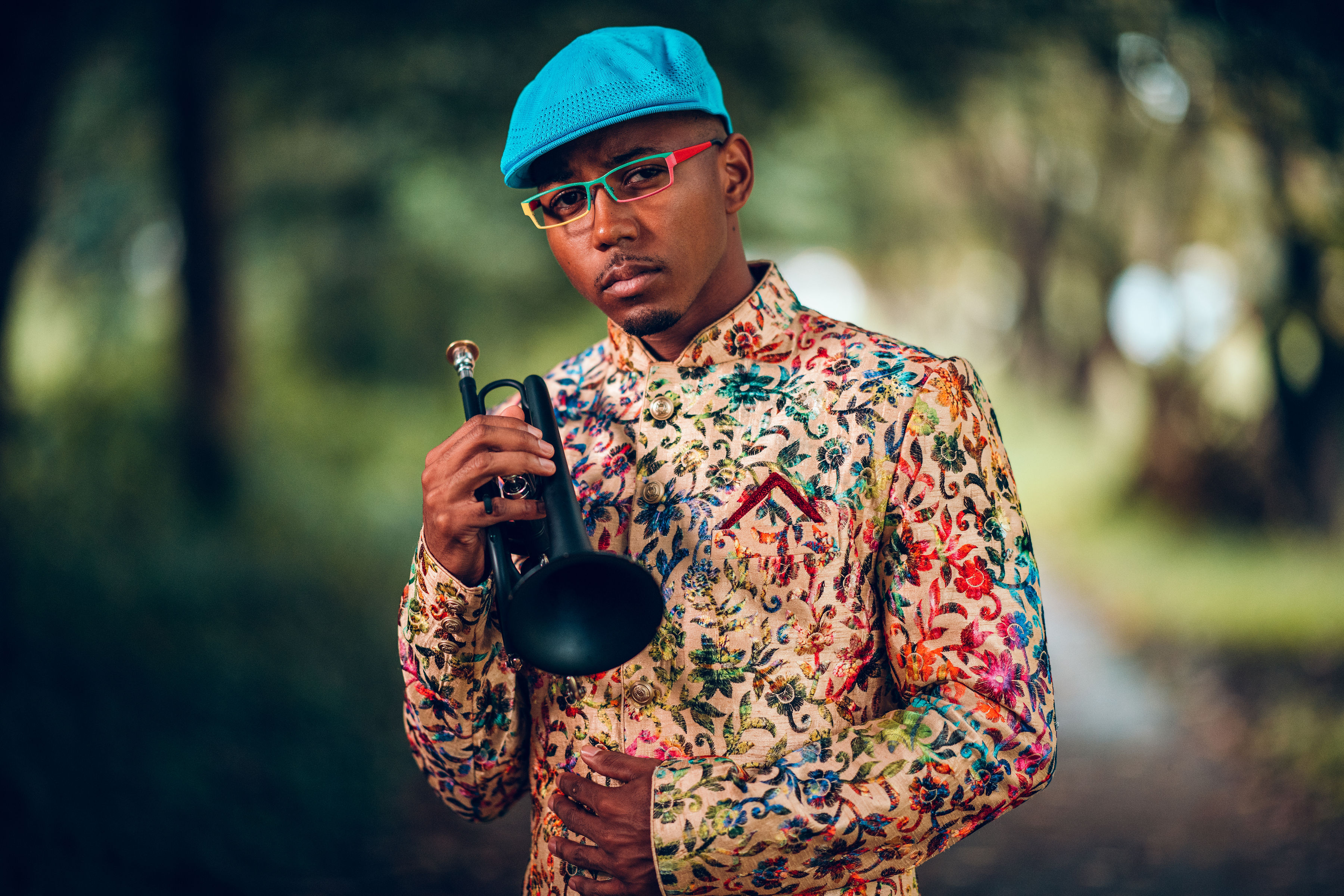 Victor Haskins
Instructor of Trumpet
Office: Ewell B56
Email: vxhaskins@wm.edu
Email: contact@victorhaskins.com
Website: http://victorhaskins.com/

Biography
Victor Haskins is a visionary, world-class trumpet and electronic wind instrument (EWI) player, improviser, composer/arranger, bandleader, interdisciplinary collaborator, and educator.
Victor brings a one-of-a-kind spirit and perspective to all that he does. His worldly, empathetic, culturally astute approach to living is a result of growing up in a variety of diverse settings in Asia and Africa and traveling extensively (which continues through the present day).  Through music, Haskins is able to synthesize his thoughts and experiences into audible emotions and sonic stories to connect with audiences.
As an educator, Victor currently serves as the Director of Jazz Outreach for the John F. Kennedy Center for the Performing Arts (since 2014), Professor of Jazz Trumpet at the College of William & Mary (since 2016), and the Director of the Jazz Ensemble at the College of William & Mary (since 2018).  Previously, he served on the faculty of the inaugural Izmir International Jazz Camp (2012).  Haskins has presented clinics and masterclasses on a variety of music-related topics at institutions including (but not limited to) the Jazz Education Network Conference, the University of Georgia, Virginia Commonwealth University, the Royal Academy of Music, the University of Richmond, TEDxVCU, and TEDxLizardCreek.
Victor's present main performing projects are Victor Haskins & Moving Sound Pictures and Victor Haskins' Skein.  Moving Sound Pictures is an innovative, "one-man-band" where Victor extemporaneously creates intricate, interactive soundscapes derived from a combination of various existing artistic traditions from around the world, and his own deeply personal improvisational language.  In Victor Haskins' Skein, Victor is joined by a live bassist and drummer to explore the possibilities of collective improvisation through the forum of compositions and arrangements he has crafted for the ensemble, delighting and intriguing audiences with intense auditory interplay.
Some notable highlights from Mr. Haskins' performance career thus far include the creation of his own improvisational concept--Melodic Improvisation--as well as an independently conceived musical genre that is based on that concept, called ImproviStory (which later evolved into his current project, Moving Sound Pictures). He released his debut album of all original compositions-- "The Truth"--on 32 Bar Records in March of 2013.  Victor has been featured at the Richmond Jazz Festival (2013-2015), Richmond's 2nd Street Festival (2011, 2016), the Elkhart Jazz Festival (2014), the Apex Jazz Festival (2014), and the Festival of New Trumpet Music (2014). In addition, some of Victor's activities are supported by grants from the National Endowment of the Arts, and the Virginia Commission for the Arts.
Victor Haskins has worked directly with a diverse cross-section of masters of improvised music, including (but not limited to) Marc Cary, Craig Handy, Roger Lewis (Dirty Dozen Brass Band), Lonnie Liston-Smith, Jason Moran, and Phil Wiggins.
Victor holds a Jazz Studies/Performance degree from Virginia Commonwealth University where he completed the 4-year music program in only 3 years (the first and only person to ever accomplish this feat).
Victor is proud to be sponsored by Eclipse Trumpets, and Denis Wick mouthpieces.