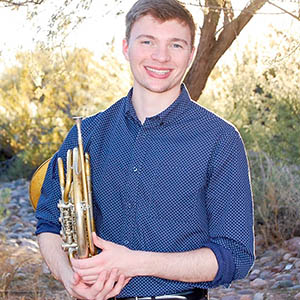 Devin Gossett
Instructor of Horn
Office: The Music Building, Room 18
Email: [[dpgossett]]

Background
Devin Gossett joined the Richmond Symphony Orchestra in the Fall of 2019 where he serves both as Second Horn and a member of the RSO Wind Quintet. He is a graduate of Northwestern University's Bienen School of Music where he earned a Master's in Music Performance in June of 2018. While at Northwestern, he studied with Gail Williams and Jon Boen and was a two-time recipient of the Emily Boettcher and Yule Bogue Endowed Fund. He was also awarded the School of Music Eckstein Fund and served as Graduate Assistant to Professor Gail Williams. In May of 2016, Devin received his Bachelor of Music in his home state of Ohio at The Ohio State University. He studied with Bruce Henniss during his time at Ohio State and was both an Aldridge Scholar and a winner of the Concerto Competition. Past Summer engagements include the Verbier Festival Orchestra, Lucerne Festival Contemporary Orchestra, Tanglewood Music Center, and Spoleto Festival, USA.

Devin served as the Principal Horn of the Peoria Symphony Orchestra in the 18-19 season and was a member of the Civic Orchestra of Chicago for two seasons. He has performed with many groups across the country including The Chicago Symphony Orchestra, The Boston Symphony Orchestra, The Philadelphia Orchestra, and The Lyric Opera of Chicago. He has recorded and toured with the Boston Symphony Orchestra and performed with the BSO for their 2019 Tanglewood Season. Devin can be heard on various recordings including the Live Recording of the Lyric Opera of Chicago's 2019 production of Elektra, the Boston Symphony Orchestra's 2022 album Strauss and the Boston Symphony Orchestra's 2020 Grammy Nominated album Adès Conducts Adès.

In his free time Devin enjoys learning other instruments, hanging out with his cat, Chester, skiing out west, and backpacking with friends.