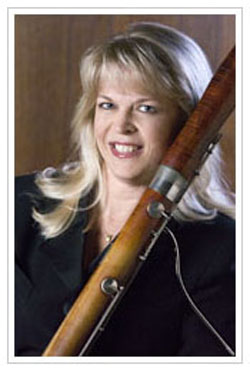 Laura Leisring
Instructor of Bassoon
Office: Ewell B54
Email: [[lfleisring]]

Background
Laura Leisring, Principal Bassoon of the Virginia Symphony since 2007, can be heard on more than 35 CD recordings on labels such as Deutsche Grammophon, Decca, and Auvidis Valois as Principal with the Tenerife Symphony Orchestra, Canary Islands, Spain 1989-2003, and as Acting Principal of the Milwaukee Symphony 2003/2004. Highly praised for her work by critics in Spain, she has performed with more than 100 world-class artists, and has been a soloist under conductors Yoel Levi, Antoni Wit, Leopold Hager, and Anne Manson, with whom she performed the European Premiere of the Concerto for Bassoon by Pulitzer-Prize-Winning Composer, Ellen Taaffe-Zwilich. She has served as Principal with the Music in the Mountains Festival, Durango, CO. since 2002, where she was a featured soloist in 2007.
Laura is the Adjunct Instructor of Bassoon at the College of William and Mary.
Information taken from the Virginia Symphony Orchestra website.