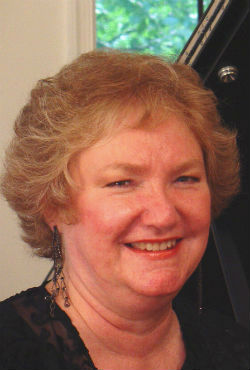 Christine Niehaus
Instructor of Piano
Office: Ewell 258
Phone: (757) 221-1093
Email: [[cjnieh]]

Education
Ms. Niehaus holds Bachelor and Master of Music degrees from the Peabody Conservatory, where she studied piano with Walter Hautzig. Doctoral studies were with Nelita True at the University of Maryland. Her previous teachers include Fernando Laires, Gui Mombaerts, and Eva Rautenberg. She is a member of Mu Phi Epsilon Professional Music Sorority; Pi Kappa Lambda, the National Honor Society for the field of Music; an honorary member of Golden Key National Honor Society; and a Distinguished Member of The National Society of Collegiate Scholars. She is on the Board of Directors of the Williamsburg Symphonia, as well as faculty advisor to Nu Kappa Epsilon music sorority and the Composer's League at William & Mary.
Background
Christine Niehaus, pianist, has performed concerts in the United States, Russia, Sweden, France, Italy, Japan, Hong Kong, and Yugoslavia. She has been honored as "one of the 28 Leading Washington Women Performers," in The Washingtonian, and as the performer of one of the "Ten Best Concerts of the Year," by the Columbia Flyer. She won Grand Prize in the International Piano Recording Competition in 1985, and previously won first prize in the Piano Concerto Competition, University of Maryland, College Park, Maryland.
Areas of Specialization
In 1994 Ms. Niehaus moved to Williamsburg from New York City to become the Harry C. and Tina Jordan Gravely Class of 1939 Artist-in-Residence at the College of William & Mary, where she currently teaches piano and group piano. Ms. Niehaus is a Steinway Artist.
Honors, Prizes, and Awards
Ms. Niehaus' playing has been heralded as "spellbinding" (Falu Kuriren, Sweden), "expertly played and always sensitively shaped" (New York Times), demonstrating "unerring accuracy and an ability to play at breathtaking speed" (St. Louis Globe-Democrat), " and "interpreted ... with elegance and power" (Varmlands Folkblad, Sweden).
"Christine Niehaus has the technical mastery as well as the feeling and imagination to make the most of" what she performs, and she also "played with a controlled energy that displayed in the deepest sense the meaning of classical pianistic mastery." Vasterviks-Tidningen, Sweden.
"As expected, however, it was Niehaus' performance that was the highlight of the show. . . . Niehaus . . . did a tremendous job. . . . The crowd agreed, bringing Niehaus back for a stirring and highly demanding encore. . . outstanding." News-Star-World, Monroe, Louisiana.
Ms. Niehaus "played Beethoven's Sonata No. 3 in C Major brilliantly . . . the subito fortes (and pianos) in the Scherzo were the best controlled I've ever heard." In a group of Debussy pieces she "showed her understanding of the composer's early romanticism, his bent for sober sonority, and his feathery impressionism." St. Louis Post Dispatch.
"Pianist Christine Niehaus proved that his [Paderewski's] manner of bravura playing is as captivating as ever, as she recreated a recital program he performed in Washington in 1892. Niehaus came well-equipped to take on such a challenging task. She possessed an assured, yet unforced touch and a lucidity of phrasing. ... [W]ith Chopin's Sonata in B-flat Minor and Liszt's "Don Juan" Fantasie, Niehaus was most clearly in her element ... She reserved most of the pyrotechnics for last, in the crashing chords, roller-coaster scalar passages and quicksilver tempermental [sic] shifts that Liszt favored in his evocation of Don Juan." Washington Post.