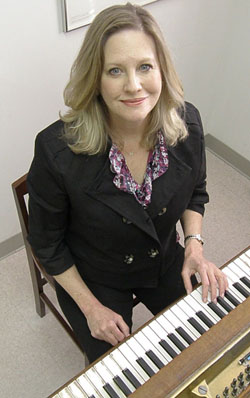 Mary Eason Fletcher
Instructor of Voice
Office: The Music Building, Room 54
Phone: (757) 221-1094
Email: [[meflet]]

Education
Mary Eason Fletcher received her training at Northwestern University, where she studied with Vergene Miller and was a member of the Northwestern University Concert Choir, conducted by Margaret Hillis, and the Northwestern University Chapel Choir, conducted by Grigg Fountain; at Boston University, where she was a student of Robert Gartside, Allen Rogers, and Adelaide Bishop (opera); and at the Boston Conservatory of Music, studying with Mme. Iride Pilla and John Moriarty. Opera apprenticeship was with the Colorado Opera Festival. At the prestigious Music Academy of the West in Santa Barbara, California, Ms. Fletcher was a student of Martial Singher. She also studied with Gerard Souzay at L'Academie de Musique de Maurice Ravel, in St. Jean de Luz, France, and with Horst Gunther in Freiburg, Germany. A native of North Carolina, Ms. Fletcher began her musical life at Salem Academy, where she founded the a cappella group Spirit, and at Salem College School of Music, where she studied piano with Hans Heidemann and Nancy Wurtele.
Background
Soprano Mary Eason Fletcher has been heard frequently here and abroad in recitals, chamber music, oratorio, opera and orchestral engagements. She has appeared locally as a soloist with the York River Symphony, the Tidewater Concert Series, the Peninsula Symphony, the William and Mary Orchestra, the Williamsburg Choral Guild, An Occasion for the Arts, First Night, and in hundreds of concerts for the Colonial Williamsburg Foundation.
While singing at L'Abbaye de Royaumont in France, Ms. Fletcher formed an association with legendary Juilliard voice professor Daniel Ferro. Subsequently, many of Ms. Fletcher's students had the privilege of working with Mr. Ferro, either in New York, or at his Greve in Chianti institute in Italy.
Areas of Specialization
Students of Mary Eason Fletcher have gone from William and Mary to graduate study at the Manhattan School of Music, the Juilliard School, the Miller Cantorial School of the Jewish Theological Seminary, SUNY-Binghamton, the New England Conservatory, and the Peabody Conservatory. They are heard in performance in the US and Europe in opera, oratorio, recitals, and musical theatre, including on Broadway.
At the invitation of David Lai of Sony Masterworks in New York, Ms. Fletcher was recently a consultant to Sony's 4Troops recording project.
Ms. Fletcher was the first Director of Applied Music at the College, serving in that position for eight years. She has coordinated master classes for W&M singers with such notable artists as Thomas Meglioranza, William Joyner, and Daniel Ferro.