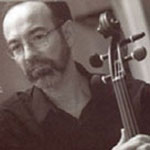 Neal Cary
Instructor of Cello, Director of String Ensemble
Office: Ewell 257
Phone: (804) 212-7635
Email: [[nacary]]

Education
Juilliard School of Music - Cary's major teachers have included Robert Newkirk, Channing Robbins, and the world-renowned Leonard Rose. Cary holds the Master of Music degree from the Juillard School of Music. In his final year at Juilliard, Cary was the chamber music teaching assistant to Claus Adam, and to Earl Carlyss of the Juilliard String Quartet.
Background
Before moving to Richmond, Cary was co-principal cellist of the Kansas City Philharmonic, and assistant principal cellist of the Tulsa Philharmonic, the San Antonio Symphony, and the Denver Symphony Orchestras.
Cary has appeared multiple times as concerto soloist with the San Antonio Symphony, The Eastern Philharmonic Orchestra, the Richmond Symphony, The Richmond Philharmonic, and the Williamsburg Symphonia. He has given chamber music performances and recitals int he Midwest and on the East coast, including such halls as Alice Tully, and Carnegie Recital Hall (now Weill Hall), and has performed as a chamber musician with world-renowned artists such as Ani Kavafian, Andre-Michel Shub, Gerald Poulet, Andre Grabiec, Julliian Lloy Weber, Franco Gulli, Dmitri Sitkovetsky, Jinny Lin, Michael Tree, Joseph Silverstein, and Charles Castleman.
Recital performaces in the Richmond area have included a difficult performance from memory of all the 40 Popper Etudes for cello, and another performance, again from memory of all the Bach Suites for Solo Cello.
Areas of Specialization
Neal Cary is principal cellist with the Richmond Symphony since the 1988-89 season and adjunct faculty at Virginia Commonwealth University and the College of William and Mary. He is also the cellist with the Richmond Chamber Players, and during the summer, is principal cellist on the faculty at the Eastern Music Festival in Greensboro, NC. He is both a popular private cello instructor and performer in the Richmond area.
Cary instructs beginners to professional level. String ensemble is available for highly advanced players only. Enrollment is by instructor permission.
Research
Cary has completed a new, "performance edition" of the Popper Etudes (as yet unpublished) and is working on a companion book which explains how to perfect cello technique through proctice of these etudes. He has also completed an unpublished edition of Bach Suites for Solo Cello, based on the three surviving copies from Bach's manuscript.
Honors, Prizes, and Awards
After his New York recital debut, Donald Henehan for the New York Times wrote "...the five not-so-easy pieces on his program were formidable enough to test any master cellist...Mr. Cary, however, gave a solid account of himself both with his pianist, and as a solo performer...strong musical instincts...Phrasing, articulation and dynamic shadings were admirable, and every piece was shaped with care and sensitivity."