The undergraduate program of the Department of Biology offers a B.S. in Biology. Our curriculum is organized to provide students with a sound introduction to the principles of biology and to develop an appreciation for the diversity and complexity of living things.
Requirements for students majoring in Biology have been designed for both breadth and depth of training as well as a variety of approaches to the study of life. For these majors, as well as those minoring in Biology, and students who are not Biology majors, the department aims to allow maximum flexibility in the development of programs consistent with the interests and needs of individual students. Read more about how to declare a biology major and download a Biology Major Worksheet to help track and plan course requirements.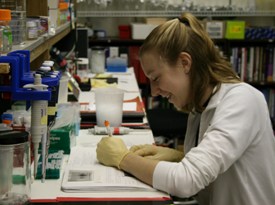 Many students find that biology courses are a good foundation for other majors. Any 100-level Biology course is appropriate for non-Biology majors and will satisfy the GER 2B requirement. These 100-level courses are specifically designed for non-majors and emphasize science as a way of asking questions and present biology in the context of human society.