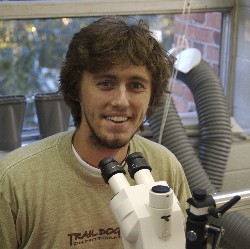 Subjects within the field of biology range in scale from molecular genetics to global biodiversity.  The biology program has a focus of hands-on research, encouraging independent work and internships with experts in the field.  Our graduates share a degree in biology but work in diverse fields such as medicine, environmental management, research, industry, science writing and law.
Read more about majoring in biology:
Majors Requirements  Students who declared a biology major in the spring of 2010 (or earlier) have the option of graduating under either the old or new requirements.