Scholarships from the ALSAM Foundation
Alice and Samuel Bessman established their ALSAM Foundation to nurture undergraduates into independent-minded researchers. Their funding provides students with the opportunity and freedom to develop both independence and a strong spirit of skepticism.
Four Biology undergraduates currently receive funding through scholarships from the ALSAM Foundation.
Samuel Bessman's chemistry studies at William and Mary were interrupted by WWII, and he later earned an M.D. He carried out ground-breaking medical research in the treatment of a number of genetic and environmental health problems. Early in his career he developed the first effective treatment for acute lead poisoning. Sam retired as a biomedical researcher from UCLA. Alice Bessman also holds an M.D. and has an active clinical practice.
A great benefit of the Biology Department's extended community is the lifelong connections and professional collaborations we enjoy. The involvement of alumni contributes significantly to the department. We also hope you'll consider contributing online to our departmental account, a discretionary fund we use to provide the best learning experience to current students.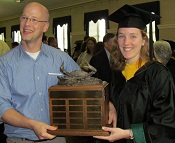 Scholarships in Action: Brooke Matson '11 entered Dr. Oliver Kerscher's yeast genetics lab during her freshman year through the HHMI Freshman Research Program. During her time in Dr. Kerscher's lab, she purified and analyzed yeast proteins involved in the maintenance of genome integrity. Intriguingly, the proteins studied by Brooke are evolutionarily conserved allowing her to make predictions about the function of similar molecules in human cells. As a senior, she was supported by the ALSAM Foundation while she completed her Honors thesis project. Amongst others, she is the recipient of the W&M Alumni Association Prize in Cellular & Molecular Biology, and the highest honor of the Biology Department, the Charlotte Preston Mangum Award. She is currently pursuing a M.D./Ph.D. at the University of North Carolina at Chapel Hill.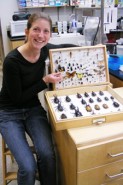 Contribute by Speaking: Alumni Emilie Snell-Rood '02 contributed to the Biology Department by returning to William and Mary for Homecoming week and speaking as part of our 2013 Fall Seminar Series.  After graduating from William and Mary, Emilie received a PhD from the University of Arizona  in 2007.  She was a Postdoctoral Researcher Fellow at Indiana, and then was appointed Assistant Professor of Ecology, Evolution and Behavior at University of Minnesota, Twin Cities in 2011.  During her recent visit, Dr. Snell-Rood met with current students and faculty before giving a seminar "Predicting how animals will cope with novel environments: understanding variation in learning and plasticity".
If you have ideas for how you'd like to get involved, we encourage to get in touch at [[biology, biology@wm.edu]].