Technology Tips for Faculty
Technology Tips for Faculty
Start the semester off strong!
This webpage is a hub of information to help faculty get started in the classroom. Here you will find quick tips for Blackboard, links to important tools like Panopto (Lecture Capture), support information and more.
Blackboard Training for Faculty
IT and STLI hold Open Office Hours for all faculty questions on Blackboard, Panopto and Zoom at the start of each semester. 
Fall 2023 Training Sessions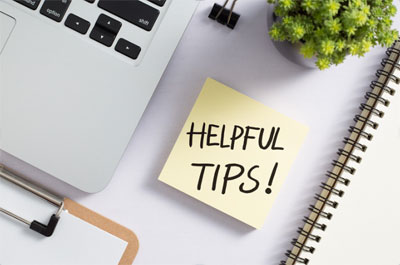 Quick Tips to Get Your Semester Started Off Right in Blackboard 
Make sure if you have copied over courses in Blackboard to update dates, grade center calculations, announcements and syllabus information.     
All courses created in Blackboard are available for students to view. If you need to make changes before the start of class, make your course unavailable. Don't forget to make it available so students have access. 
If you need colleague to have access to your course or to add a teaching assistant or course builder, you can put in a request through the Blackboard Course Generator.
Get to know your students before the first day of class.  Several tools in Blackboard are available for you to utilize. Check out the Oscelot Photo Roster located in the Control Panel/Tools area in your Blackboard Course and have students use the NameCoach Roster from the Tools menu in your course.  
Make sure to subscribe to the IT outage site for important updates on system outages or issues throughout the semester. 
Don't forget about Blackboard Ally! Students now have access to alternate versions of files added in your Blackboard course. Learn more about Blackboard Ally. 
Panopto (Lecture Capture) & Zoom
Panopto is an easy-to-use tool for recording multiple events including in-class lectures, events, presentations and tutorials that can be easily distributed to students through Blackboard.

Learn more about Panopto

.

 

Reminder: Zoom cloud recordings are for faculty/staff only and are only stored for 30 days in Zoom and without expiration in Panopto.
Using Panopto & zOOM in the Classroom (pdf)Using Panopto in the Classroom (pdf)
Classroom Support 
Classrooms have gone through summer maintenance and are ready for use! We encourage everyone to visit their classrooms prior to the start of the semester to ensure you are prepared to use the resources in the classroom. Additional information about classrooms, including the list of equipment per room and support information, can be found at www.wm.edu/it/classrooms. 
Classroom Training Sessions
We will post locations for in-person training sessions in August 2024.
*A change from past years is that IT support personnel will be dispatched to your classroom only when remote support cannot resolve the problem and is based on technician availability.
If you are in a classroom and run into a problem, you can contact IT by calling classroom support at 757-221-3011, or the main TSC line at 757-221-4357 (HELP).   
Microsoft Teams 
There are two major changes for W&M related to Microsoft Teams.
Students now have access to Microsoft Teams for messaging and other collaborative functions. This is a good way to connect with your students for one-on-one and group discussions. Learn more about Microsoft Teams. 
As you've likely read in other messages, the university phone system is in the process of migrating from Mitel to Microsoft Teams Calls. Learn more about Microsoft Teams Calls.   
Semester Readiness Checklist for Instructors
Resources from STLI to start the semester including quick guides and video tutorials for course design and best practices. 
Support 
If you have any questions or need assistance, please contact our Technology Support Center. Our hours during the semester are Monday - Friday 8am – 5pm with extended coverage 5pm – 7pm Monday - Thursday.
Phone: 757-221-4357 (HELP)
Email:

[[support]]

Chat support is also available.
If you would like a consultation on instructional approaches for the coming semester, please request a STLI consult or email [[stli]]. 
Best wishes for a successful semester!