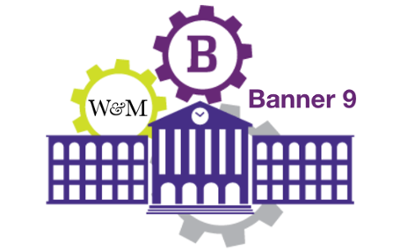 Access Banner 9 Admin
Banner 9 uses a two-step verification system called Duo.  Two-step verification utilizes your William & Mary CAS login credentials PLUS a secondary form of identification (like a code sent to your cell phone or office phone), providing an additional layer of security to the Banner system.
Instructions for enrolling in Duo
After you are enrolled in Duo, you can access Banner Admin by going to the IT Links website (itlinks.wm.edu).  There is a link to Banner Admin Production (aka PROD) on the landing page. Links to other instances of Banner (DEVL, TEST, USER, PPRD, UPGR, and PRJ1) can be found on the left-hand navigation menu.
Access Requirements 
Want to access Banner Admin?  Access is granted based on job function.  To be granted access, follow these steps:
Login to

 

Request IT

 

and submit a Banner Access Request form.  
Complete the Banner Admin Navigation Training. Course must be passed before access is given.
Functional training is usually required.
Devices and Browsers
Banner Admin works on various types of devices.  In addition to using a traditional laptop or computer, Banner 9 also works on large-screen mobile devices, like tablets and iPads.  
Banner 9 is also compatible with any type of modern web browser.  You can choose your favorite... Chrome, Firefox, Safari, etc.  The previous version of Banner (Banner 8) was limited to Internet Explorer; a browser that is not supported for Banner 9. 
Off-Campus Access to Banner Admin
Off-campus access to Banner Admin is available without using VPN or VDI, thanks to the added security provided by the Duo Two-Factor Authentication system.

Banner Maintenance 

Banner has a nightly back-up maintenance outage starting at 3:30am which lasts about an hour.
Banner will also occasionally undergo occasional maintenance which will result in complete or partial outages to Banner itself and Banner-dependent systems.   The maintenance is generally conducted on Sunday mornings. 
Projects with a Banner Component
Initiating a project that has a Banner component or a Banner integration piece to it?   Get started by submitting a Project & Programming Request via Request IT. 
Questions? Contact the Technology Support Center (TSC)
757-221-4357 (HELP) | [[support]] | Jones 201, Monday - Friday, 8:00 am - 5:00 pm