Making the Virtual Transition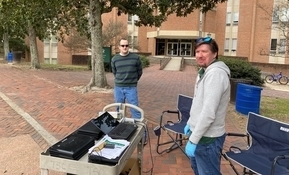 Even before the decision was made to close campus, W&M IT was working hard to make sure the university would be able to function remotely in both administrative and teaching capacities. "We already had the technology in place," says interim Chief Information Officer Bernadette Kenney. "Systems like Zoom, Teams, the virtual private network (VPN), and virtual desktop infrastructure (VDI) have all been available for years. The challenge was expanding on those, and making sure they could manage the volume of work that had to be done."
Chief Technology Officer Corinne Picataggi oversaw much of that expansion well in advance of the campus' transition to virtual operations. "We built out a virtual infrastructure both on campus and leveraging Amazon Web Services (AWS) virtual workspaces," she explains. Picataggi and her team also virtualized campus lab environments with specific software so that they were available remotely. When students and faculty connect through the VDI, the interface looks exactly like the lab computers. 
Marshalling Resources
Once campus offices had closed, the challenge became making sure W&M employees had the technology tools they needed to do their jobs. "Not everyone has a laptop, not everyone has remote connectivity," emphasizes Executive Director of Client Services Mike Murphy. The biggest issue wasn't the technology infrastructure on campus, but supporting people who didn't have all the resources to telework from home. IT surveyed faculty and staff about their access to technology, which drove decisions about divvying-up available resources.
For example, IT's Equipment Service Program recycles laptops and desktops every 3 to 4 years, during which it will hold onto some older equipment in case of an emergency, and periodically recycle or donate the remainder. Coordinated by Picataggi, 86 of these laptops were loaned-out to university employees based on need. IT also provided 15 laptops to students needing equipment, which were distributed directly through the Dean of Students Office.
"In mid-March we said, let's be proactive and go ahead and get those laptops ready," Murphy recalls. This involved wiping each hard drive and installing up-to-date software. Loaner laptops were matched to employees and distributed through a curbside pickup run by Client Services Operations Manager Danny Clouser, Applications Administration Manager Patty Herrera Cox, and Applications Administrator Brandon Bell.
Expanding Access to Virtual Tools 
In addition to providing physical hardware, IT made sure people have access to virtual tools and expanding access where it is needed. Google Workspace productivity tools and Mitel Connect Client's softphones system are now available to faculty and staff, and all W&M campus users now have a Zoom Pro license. Kenney keeps an eye on the analytics. "As you can imagine, we are seeing a dramatic increase in usage numbers," she says. "It's really about ensuring that people can access the tools and can use them successfully."
Kenney adds that universal campus Duo enrollment in October 2019 was enormously helpful in replacing some of the arduous remote work security measures previously in place.
Providing Support
As the university transitioned to remote learning, IT recognized that supporting heavily-used services such as Blackboard, Zoom, and Panopto was going to be another challenge. Murphy credits Teaching and Learning Application Specialist Kristy Walker for working with Blackboard and W&M's Studio for Teaching and Learning Innovation (STLI) to ensure campus needs were being addressed. IT is also continuing to work with STLI to evaluate software that could be used to address virtual course needs.
At the same time, Murphy and the Client Services team have been working to respond to increased tickets and support calls. "Around this time of year, I'd say we average around 100-120 tickets per day," Murphy estimates. In mid-March the team clocked more than 360 tickets per day. "It was a lot to manage," says Murphy. He has made support responses a priority for his team, and he even recruited people from across other IT teams to respond to emails and answer calls during the first week of remote classes.
Client Services has also provided information to faculty and staff unfamiliar with remote services. "There's a big education component that we have included on the Connect Remotely site. We are especially trying to teach people when you need VPN, when you need VDI, and when you just need the regular internet," Murphy explains. "There's limitations for VDI and VPN, and so we just want to make sure those resources are available to those that really need them."
"Everyone's More Adaptable Than They Think"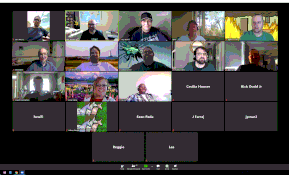 IT staff are also facing the personal challenge of working from home just like everybody else, while working to address the university's ongoing technology needs. "One of the challenges for me is that I keep thinking, 'if I can get through this week, next week I can focus more on my team and our work', yet every day there are still offices asking for us to help with new issues as a result of the transition," says Picataggi.
"We're trying to find a new normal," adds Murphy. "One of the things we've done within the client services team is a daily Zoom check-in. We use this time to share what is happening within IT, collaborate on recurring IT issues, and also have an opportunity to socialize and check in on each other's wellbeing. It can be difficult working in isolation like this."
Faced with responding to all these immediate challenges, IT is working to find the appropriate balance of resources to continue support of long term projects and upgrades. 
But Kenney remains hopeful. "If there's any advantage I can identify out of all of this, it's that we'll see technology adoption in a way that we would never have seen it," she says. "What we did in two or three weeks would have taken us three years under normal circumstances. Everyone's more adaptable than they think. I hope that when we get back to normal life, we see more flexibility and more willingness from people to take on new things in ways that they hadn't thought about doing before."