Archaeological Reports (CD-ROM)
Archaeological Reports (CD-ROM)
Virginia Department of Transportation Announces the Publication of Preserving Virginia's Archaeology: Prehistoric and Historic Research
by Virginia Department of Transportation,
Cultural Resource Program
Monday, January 29, 2001
This two-volume set of CD-ROMs contains 17 technical reports of archaeological research conducted by the William & Mary Center for Archaeological Research from 1988-2000 for the Virginia Department of Transportation.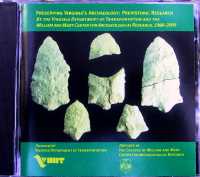 Developed as two volumes, one contains nine prehistoric research studies while the other contains eight reports with an emphasis on historic-period occupations. Each report in the CD includes its full original text, graphics and artifact inventories.
The Commonwealth of Virginia's rich archaeological heritage has been a particular focus of VDOT's environmental programs for more than a quarter-century. VDOT's archaeological efforts represent the single largest contribution by any public agency or organization in the Commonwealth toward furthering the archaeological understanding of Virginia's prehistoric and historic past. This collection of contributions is one way for VDOT to better ensure that the results of archaeological research conducted for public transportation projects are disseminated to the public - the ultimate sponsors of archaeological research by public agencies.
Two recurrent themes appear in several of the reports. Among those pertaining directly to prehistoric occupations, no less than seven detail findings at small, limited activity sites. These studies have allowed for the definition of more precise criteria for the evaluation and topics for productive research. A common thread in four of the historic-period project reports concerns 19th-century farmsteads. The findings from these investigations throughout Virginia will enable other researchers to further advance meaningful concepts toward the management of similar cultural resources.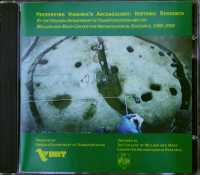 Users of these CD-ROM collections will find the reports can be conveniently read from a desktop computer, and portions can be printed as needed. All of the reports are in the portable document format (pdf).
The CDs can be purchased individually or as a set. Prices in U.S. funds are as follows:
One CD, Historic or Prehistoric: $9.14 each includes shipping and handling
Two CDs, (One Historic and One Prehistoric): $16.59/set includes shipping and handling
Please send Checks or Money Orders only, made payable to the "Treasurer of Virginia" to:
Virginia Department of Transportation
c/o Cash Receipts Section, Fiscal Division
1201 East Broad Street
Richmond, Virginia 23219-2000
For further details, please contact Mr. Tony Opperman, Preservation Program Manager at Opperman_af@vdot.state.va.us
Prehistoric Research CD Contents
A Phase II Archaeological Evaluation of Site 44SN225, Proposed Route 689 Improvement Project, Southampton County, Virginia
A Phase II Archaeological Evaluation of Site 44SN226, Proposed Route 689 Improvement Project, Southampton County, Virginia
Phase III Archaeological Data Recovery for Mitigation of Adverse Effects to Site 44WS115, Associated with the Route 58 Coeburn Bypass Project, Wise County, Virginia
A Phase II Archaeological Evaluation of Site 44SN203, Associated with the Route 58, Franklin Bypass Widening Project, Southampton County, Virginia (see Technical Report 5)
Archaeology in the Shadow of the Hayes Creek Mound: Phase III Data Recovery at Site 44RB281, the Dryfoot Site, Route 602 Bridge Replacement, Rockbridge County, Virginia (see Technical Report 11)
A Study of Interior Coastal Plain Settlement: Phase III Data Recovery of Significant Archaeological Resources within the Proposed Route 199 Extension Corridor (see Technical Report 13)
Ceramic Technology, Early Woodland Settlement and Enfield Plantation: Phase III Archaeological Data Recovery for Mitigation of Effects to Site 44KW81 Associated with the Route 629 Bridge Replacement, King William County, Virginia (see Technical Report 21)
Four Thousand Years on the Appomattox: Archaeological Data Recovery at Site 44PG381, Associated with the Route 10 Bridge Widening, Prince George County, Virginia (see Technical Report 24)
Ephemeral Late Archaic Occupation in the Culpeper Basin: Archaeological Data Recovery at Site 44FQ161, Proposed Route 676 Project, Fauquier County, Virginia (see Technical Report 31)
Historic Research CD Contents