William & Mary Information Technology is comprised of intelligent and hardworking individuals who exemplify the university's core values of belonging and respect. Our "Did You Know?" series gives us the opportunity to shine a spotlight on members of our team and introduce others to their work, as well as the unique things that make them tick.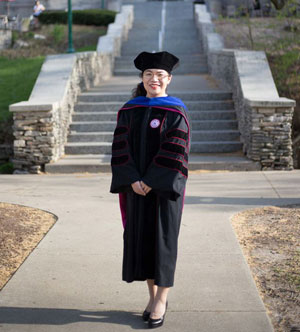 Lanlan Mu is the university's assistant director of Institutional Research (IR). In her role, Lanlan handles all kinds of data reporting and analysis at W&M. This includes external data reporting for outlets such as U.S. News & World Reports, Fiske Guide to Colleges as well as internal reporting which includes developing the Qlik Fact Books. Lanlan loves working in IR, the data center for W&M, where she and her colleagues help people who are gathering and polishing data and seeking specific information. Lanlan says creating a data culture on campus where people use numbers in strategic planning is vital to helping the university improve and to better student experiences.  
 
As a first-generation college student, Lanlan developed an interest in student experiences when she struggled to choose the right college and major, as well as adjust to the culture shock of moving to a major city. Her experience made her wonder if other students struggled with the same issues, so she wanted to help fix it. Lanlan went on to earn her master's degree at Beijing Normal University before her passion for student engagement and experiences led her to pursue her doctorate at Indiana University Bloomington, which was a great fit for her research interests. As a graduate assistant at National Student Survey of Engagement (NSSE), Lanlan conducted research on student experiences and engagement, which eventually led her to join W&M as assistant director of institutional research in 2018. 
 
Always up for a challenge, Lanlan notes that the project that stands out to her the most since coming to W&M was when she was tasked with familiarizing herself with Qlik, W&M's data discovery tool. When Lanlan joined the university in 2018, Qlik had just come online, and she was eager to start the training. Five years later, she has mastered the tool and uses it on a daily basis, including when developing interactive Factbooks for faculty and staff.  
 
Since joining W&M IT, Lanlan notes how generous, helpful and understanding her team has been. "I appreciate the people around me being supportive because there was a learning curve for me," she says. Lanlan loves working at W&M because she values her team's commitment to excellence, flexibility, inclusivity and willingness to assist one another. 
Did you know?   
Outside of work, Lanlan enjoys spending time with her husband and toddler son, Jason. She also likes traveling, hiking, crocheting, going to the library, and cooking (especially beef ribs and dumplings – yum!).