A Day in Your Life (With W&M IT)
You know W&M IT as the people who help fix your laptop, the ones who made sure you could connect to the network on move-in day and the people who email you when they're working to get Blackboard back up and running after a glitch. But did you know that IT plays a role in your day-to-day life, too? In fact, one of the ways IT is best represented is when you don't even know they're there, because things are moving along without a snag. They might even be moving faster and easier than ever before, thanks to a new innovation or project. Here's a look at some of the ways IT is involved in the life of a typical W&M student.
9:00 a.m. Wake up. Log onto your laptop to check email and Twitter. The ability to login (authentication), the wireless network, email and Internet service are all provided by IT.
9:30 a.m. Head to the Sadler Center to grab some breakfast from Einstein's. You swipe your ID card and are able to pay using Dining Dollars, thanks to the ID System Project. IT worked with Auxiliary Services to get the new streamlined system running.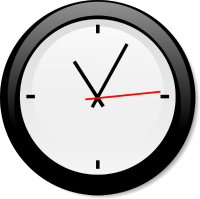 10:00 a.m. First class is American History in Blair Hall. Your professor is able to show you a video about the Civil War, thanks to the classroom technology maintained by IT. A problem with the audio? Look out for IT staff speeding over in a golf cart momentarily.
11:00 a.m. You walk to your second class of the day, Intro to Creative Writing in Tucker Hall. You read and discuss everyone's latest essay assignment because you have all posted them on the class blog. Thanks to W&M IT, which facilitates the blog capabilities on campus, you're able to get feedback on your work by not only your professor, but your classmates as well.
12:00 p.m. Use your ID card to swipe for your lunch at the Marketplace.
1:00 p.m. You walk to Swem Library with a friend and log onto a PAC lab computer. You open up a project you had been working on in the Tyler lab yesterday. Thanks to the WM network and your login credentials, maintained by IT, you can save on the :H drive and work on projects in multiple sites.
2:30 p.m. After the project discussion, you log in to Blackboard to take an online quiz for your Geology course. Then you print your reading assignment for tomorrow's class. You accidentally start printing the wrong pages, but IT's Troubleshooting page saves the day and you're able to cancel the job.
3:00 p.m. Head to the Rec Center to work out. The new Fusion system, implemented by IT, lets you register for exercise classes online, so you're already signed up for a weightlifting class for next week.
5:00 p.m. Back to the dorm to catch a little TV time before going to dinner. Cable TV brought to you by W&M IT. Did you know they even have a channel listing for you online?
6:00 p.m. Before going to grab dinner, you log into Banner to submit a time sheet for the hours you spent working at the Sadler Center Games Desk. You guessed it—IT maintains Banner too!
8:00 p.m. Back in Swem for a group meeting. Using Event Management System (EMS), the web-based scheduling system implemented by IT, you found and reserved a group study room with computer monitors ahead of time, and can share your PowerPoint presentation with your whole group.
9:00 p.m. You use the MATLAB software to get started on tomorrow night's homework assignment, so that you'll have time to relax later.
With all the ways that IT has kept your life running today, finding time to yourself should be no problem at all. The next time you're headed somewhere on campus, whether it's to class, your dorm, the Rec Center or a group meeting, take a moment to think of all the ways that IT keeps things running behind the scenes for you.