2016 Employee Appreciation Service Awards
Scott Fenstermacher, 40 years of service
Hired in August of 1975 at VIMS, Scott Fenstermacher started his career at William & Mary as an electronics technician in the Department of Physical Oceanography & Hydraulics.  He spent three years on research vessels measuring oceanic depths, which at the time was done with on-board electronics.  He spent another six years supporting electronic equipment for bay and estuary oceanography. In March of 1984 he moved to the main W&M campus to work at the Computer Center and install networks throughout campus.  "I went from working with vertical wires to horizontal ones," Fenstermacher quipped about the transition. 
Since that time, the W&M network has grown considerably - and Scott Fenstermacher has been there for all of it.  He has been involved in everything from the conception of computer labs on campus, to installing a wireless network, to upgrading the network for a VoIP phone system, and most recently to architecting a fault-tolerant network. "Over the decades Scott has kept pace with a fast-moving industry by constantly learning new technologies, equipment, and software.  He always applies this knowledge, as well as his wonderful ability to solve problems, to the College's benefit," said CIO Courtney Carpenter at the Employee Appreciation Service Awards Ceremony on June 14.
Fenstermacher has two sons and both work for William & Mary, one in Information Technology and the other in Advancement.  Fenstermacher received the recognition for his 40 years of service on his birthday.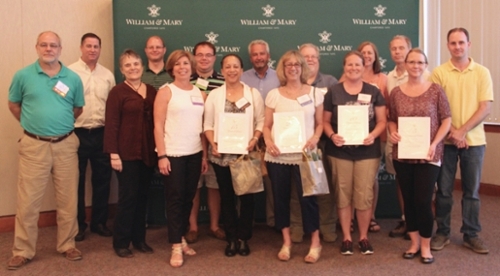 Those from W&M IT recognized for service include:
5 years
Corbett, Brandon B.


10 years
Clouser, Daniel W.
Fleming, Bonnie Lynn T.
Haag, Steven A.
Rouette, Melissa J.
15 years
Chestney, Jeffery D.
Encarnacion, Tracey P.
Keel, Matthew I.
Morledge, Clarke H.
Picataggi, Corinne M.
20 years
Weaver, Glen
25 years
Pavelich, Nancy L.
30 years
Joynes, Adrienne R.
40 years
Fenstermacher, Scott D.
{{youtube:large:center|_951BMOp4Q4, Starting at minute 14 in the video, W&M IT's CIO Courtney Carpenter recounts stories from Network Manager Scott Fenstermacher's 40 years of service to William & Mary.}}