Student Email - Getting Started with O365
Summary
Here are some tips for getting started with Microsoft O365 email as well as answers to your questions about the email transition.
Full Description
Throughout the month of January, student email and calendars have been migrating from Gmail to Microsoft Office 365 Email. To learn more about this project and the reasoning behind it, please visit the Gmail & Calendar Transition to Office 365 announcement page. 
Here we will hone-in on the specific information you (students) will need once you have migrated to the O365 system and start navigating the new email landscape.  
New Email Address
Your email address in Microsoft O365 will be your W&M Username + @wm.edu. Example: if your Gmail address was wmgriffin@email.wm.edu, your new email address will be wmgriffin@wm.edu.
Access O365 Email
Web - You can access your W&M email online several ways. Here are some options:

Mobile - Many of the Office 365 services have mobile apps available - including Outlook!  Find it in your iPhone App Store or Google Play store.
Microsoft recommends all Apple devices use Microsoft Outlook for iOS. Sign in with your W&M email address and you will be directed to the W&M authentication site.
Want to set-up email on your phone using the native app? Here's what you need:
Description of Mailbox:

 

Exchange 
Server Name:

 

outlook.office365.com
Username:

 

Enter your W&M Username
Password:

 

Enter your password for your W&M Username
Log In To O365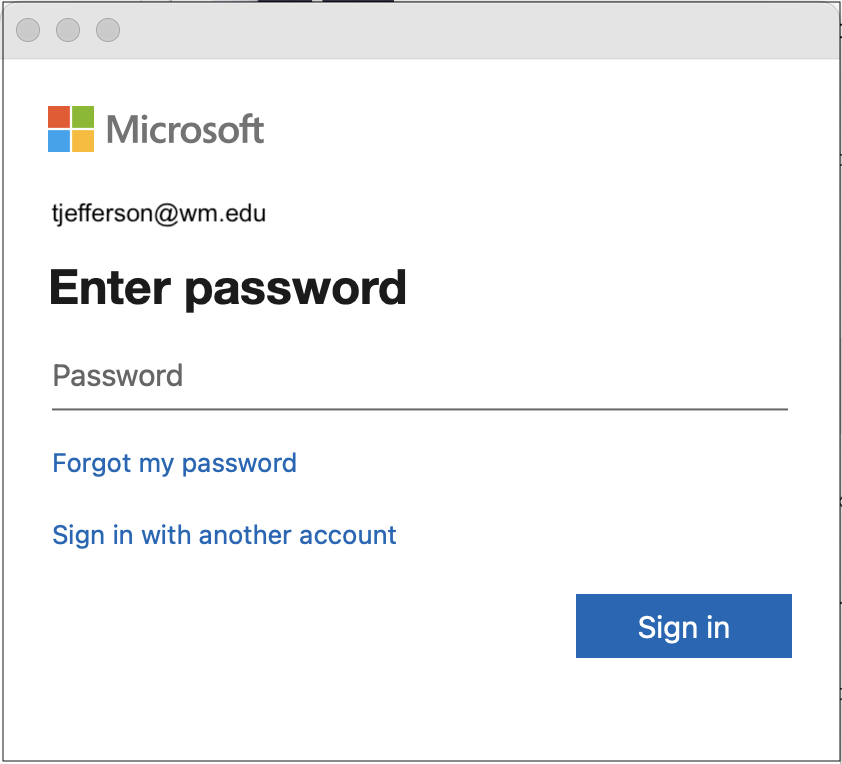 O365 email uses Microsoft's Azure Active Directory authentication to log in to Microsoft services.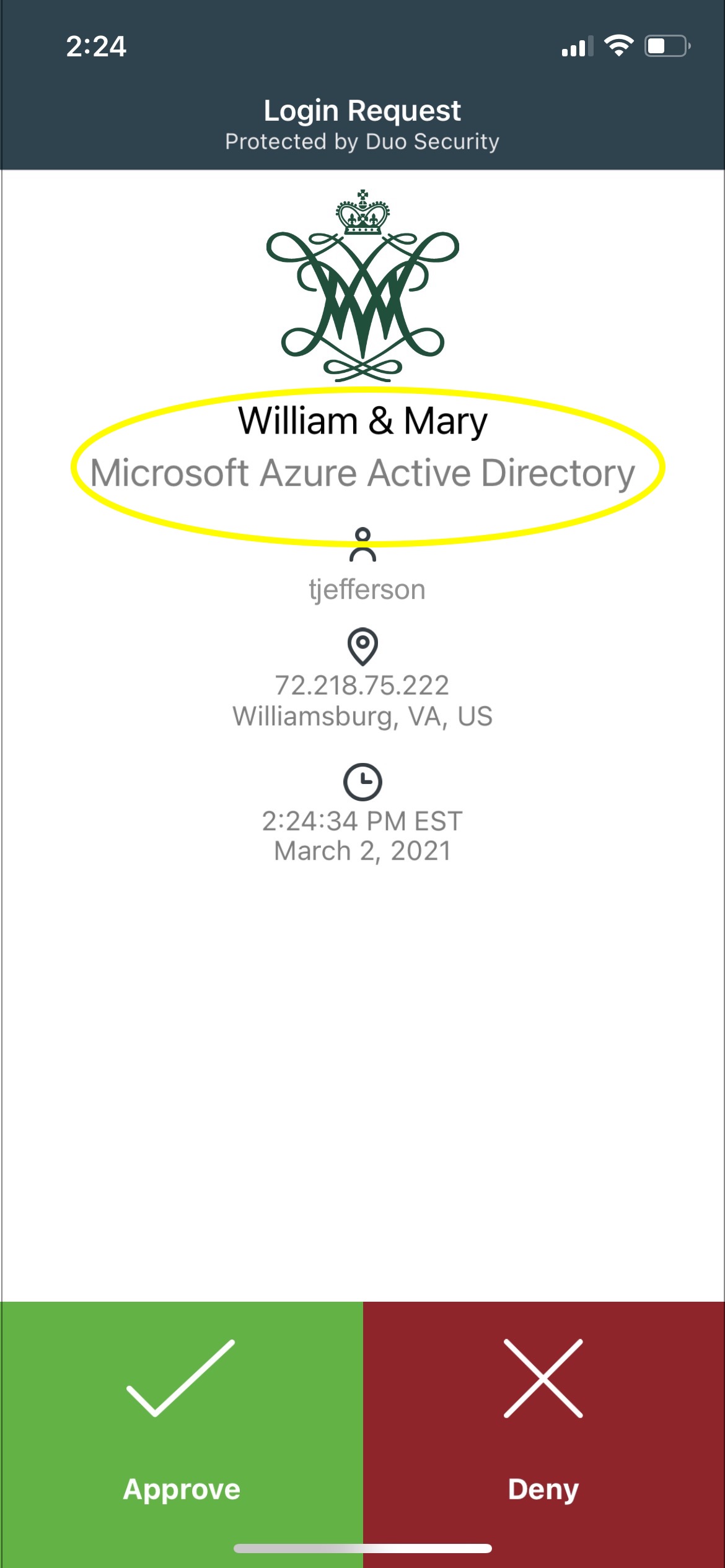 Enter your W&M email address on the login screen. Use the email address in this format: "W&M Username + @wm.edu" (example: wmgriffin@wm.edu). 
Enter your W&M password on the following screen.
Authenticate using Duo. The Duo push comes from "Microsoft Azure Active Directory". 
Mobile Devices - You will also be asked to enter your password and confirm your identity via Duo with Microsoft applications on your phone. Just follow the prompts on your phone to complete the process. 
What About Gmail?
The email that was in your Gmail account as of your migration date was copied into O365. Any email sent to Gmail (your @email.wm.edu address) after that point will be forwarded automatically to your Microsoft O365 email account. This forward will be in place throughout the 2022 calendar year to give you ample time to make transition between mail systems.  
IMPORTANT! Although you will still be able to access and send email from your Gmail account, there will be no additional copies of the mailbox. We strongly recommend that you start using your O365 mailbox for all email activity to avoid losing data when the Google mailboxes are retired.
Google Workspace Apps
You still have access to Google Drive! The Google Apps are here and they not going away. Only Google email and calendar services are migrating to O365. You will continue to have access to W&M's Google Workspace Apps, like Google Drive and Google Docs.
Use the Google Workspace link on myW&M to access your Google Apps or go to workspace.wm.edu.
Student Organizations
At this point only "person-owned" email accounts have been moved to Office 365. Student Orgs were not moved in this phase of the project.
For the time being...
Your student organization email addresses will stay the same.

Use the normal login process to access your student organization account.
If you send an email to the student organization listserv, it will still reach the intended receivers. The forwards on the recipients' email accounts will route it to the appropriate O365 mailbox.
Listservs
On Wednesday, February 2, 2022 IT will update all listservs. The fix addresses the following:
Update all subscribers listed as @email.wm.edu to their new @wm.edu email address. 
Update listserv owners and moderators with an @email.wm.edu address to @wm.edu addresses.
The update should also address most of the lists that have a data source (auto-populated). 
Blackboard Emails - Check Your Junk Email Folder
Immediately following the migration, email messages sent from Blackboard were being routed to the Junk Email folder in O365. Find the Junk Email folder on the left-hand navigation menu below the Inbox. 
Although this issue has now been resolved, it is a good practice to check the Junk Email folder regularly - just in case! 
Questions?
Email the project team at [[o365project]].