Disagreeing diplomatically is key to learning, say Rowe, Gates
That people can disagree in a constructive way, and in fact sometimes they must, was an overarching theme of a weekend talk between William & Mary's president and chancellor.
W&M President Katherine A. Rowe and Chancellor Robert M. Gates '65, L.H.D. '98 discussed the role of higher education in encouraging civil discourse around difficult topics and contrasting viewpoints at "The Fine Art of Disagreement & Diplomacy" Saturday in a packed Commonwealth Auditorium at the Sadler Center. The discussion was part of W&M's Charter Day weekend events, including a Friday ceremony in which Rowe was inaugurated as president and Gates was re-invested as chancellor. Jaime Settle, associate professor of government, served as moderator.
Agreeing that there's plenty of disagreement and uncivil discourse these days, especially on social media, Rowe and Gates set out to dissect how those with opposing views can disagree without being disagreeable.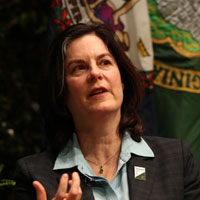 "To me, this is an incredibly exciting as well as challenging moment," Rowe said. "We can hear from so many voices and perspectives that we haven't been able to hear from in so many conversations. And if we can remember how to make that a strength, how to make that a source of discovery of new knowledge, of new practices, of new ways of building community, that is what's going to allow us to build the democracy that we want to build in the coming decades.
"And for higher ed right now — you know I'm a Renaissance scholar so my training goes back to the Renaissance and to antiquity — we are, and have been since the Middle Ages, institutions that teach human beings how to disagree well, how to think with disagreement and by disagreement. And we need to continue to be that kind of an institution going forward to support our democracy."
Gates added that the topic is timely and should be ongoing on university campuses and in U.S. public life.
"I think that the reason we need this conversation is that, partly due to the impersonality of social media but also the polarization of our political life in this country, people have forgotten how to disagree respectfully and to be civil with one another even as they disagree on major issues," Gates said.
"I think another piece of it is that we have forgotten when disagreeing to keep the disagreement focused on the substance of the issue without making it personal."
The two agreed that empowering those at every level to disagree with and challenge leadership, while feeling respected, ensures that the best ideas are considered. They also elaborated on how learning to diplomatically disagree while in the learning environment of the university can prepare students to use those skills in other settings once they graduate.
"Real disagreement done really well is incredibly powerful," Settle quoted Rowe as saying during preparation for the talk, and asked her to elaborate on that point.
"Disagreement when it's done well is a process of discovery," Rowe said. "And that's what we do in higher ed. Teaching, learning and research are processes of discovery. So disagreement done well starts in a difficult, but really exciting place with curiosity."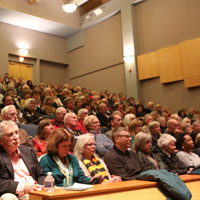 Exploring an opposing viewpoint can lead to understanding new perspectives and an opportunity for discovery by all involved, she added. Gates called this type of exchange essential to good leadership.
"The promotion of disagreement is a critical tool of leadership," Gates said. "Any leader at any level who wants to be surrounded by people who agree with him or her are taking a gigantic risk. I have always found, in the different institutions I've led, that forcing disagreement — making people disagree with me — has been a powerful tool.
"I always tell people I'd rather be warned I'm about to step on a land mine than after I've stepped on one. And that means you telling me when you think I'm going to do it wrong. That means you telling me if you think I'm making a big mistake or if I'm going down the wrong path."
Constructive uses of digital technology and new modes of communication such as social media are still being explored as part of the process, Rowe said.
"We're still discovering what this communications environment can be and what are the ways of using it that will get us to the kind of really powerful, effective disagreement we want," Rowe said.