2016 Conference:  Epistemology and Cognition

The Department's 2016 conference will be held on September 9th and 10th.
The following speakers have been confirmed:

Details forthcoming!
Conference Organizer: Christopher Tucker
The Department of Philosophy is grateful to Teresa Thompson ('67) and Michael Foradas ('78)
for their generous support.
2014 Conference: The Authority of Tradition

Our 2014 conference, The Authority of Tradition, was held on Friday October 3, 2014 in Leadership Hall at the W&M Alumni House. The presentations investigated the tension between the power that tradition has over our attitudes and behavior, on the one hand, and the suspicions we have about it as a source of authority for us, on the other.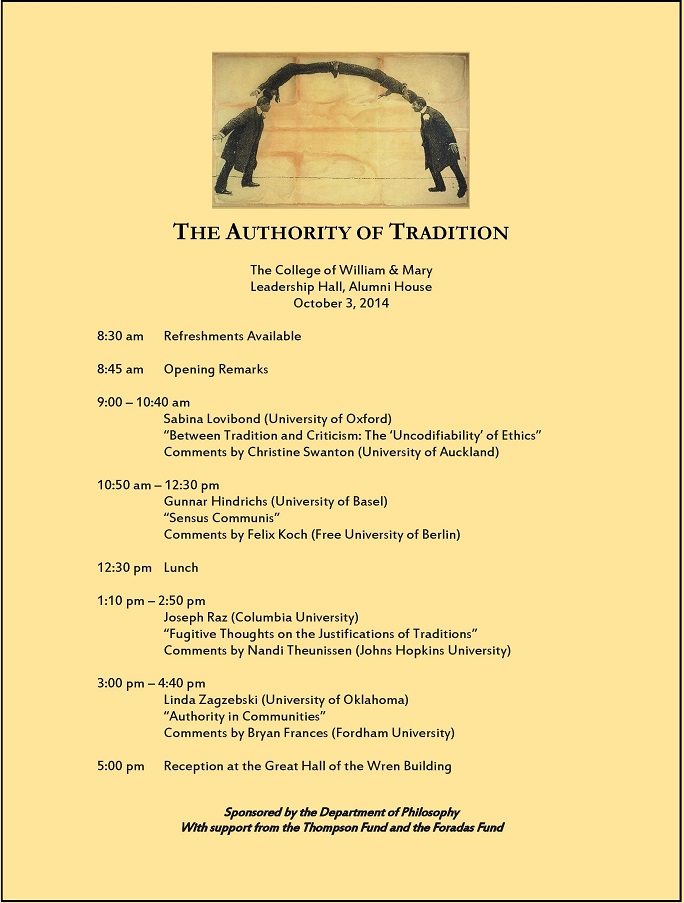 Conference organizers: Andreja Novakovic and Christopher Tucker,  with the help of Debbie Wilson, Philosophy Department office manager.

More on the Conference Presenters:
Joseph Raz (Thomas M. Macioce Professor of Law, Columbia Law School)
Respondent Nandi Theunissen (Duane L.Peterson Assistant Professor in Ethics, Johns Hopkins University)

Gunnar Hindrichs (Professor, University of Basel)
Respondent Felix Koch (Institute for Philosophy, Free Univeristy of Berlin)

Sabina Lovibond (Emeritus Fellow and Tutor in Philosophy, Worcester College, University of Oxford)
Respondent Christine Swanton (University of Auckland, School of Arts/Philosophy)

Linda Zagzebski (George Lynn Cross Research Professor & Kingfisher College Chair of the Philosophy of Religion and Ethics, University of Oklahoma)
Respondent Bryan Frances (Professor of Philosophy, Fordham University)



Past Conferences
Responsibility & Relationships: 50 Years of Strawson's 'Freedom and Resentment' (2012)
Study of the Human Self (2008)
The Future of Democracy (2006)