Diverse Philosophies Club
Diverse Philosophies Club
As of Fall 2016, what was formerly Philosophy Club has become Diverse Philosophies, with the aim of dedicating discussion to valuable ideas in philosophy, with a special emphasis on underrepresented work, new perspectives, and diverse authorship.
The William & Mary Diverse Philosophies Club provides an exciting atmosphere in which students have the opportunity to interact with one another and faculty outside the context of a classroom environment. Open to majors and non-majors alike, the Diverse Philosophies Club allows students to pursue their philosophical interests wherever they may take them, including areas beyond the scope of classes typically offered at the College. Activities include weekly discussions, lectures by guest philosophers, and a picnic each semester where students challenge faculty in a friendly game of volleyball.  
Fall 2018 meetings are generally Fridays, 4:30 to 5:30 pm, in James Blair 142. In certain weeks, there are no meetings, so please contact one of the co-facilitators to get on the e-mail list.

2018-19 Diverse Philosophies Club Co-Facilitators
Student Co-Facilitators
Noah Terrell, E-mail: njterrell@email.wm.edu
Michael Cairo, E-mail: macairo@email.wm.edu
Faculty Adviser
Philip Swenson, E-mail: [[pjswenson]]
Annual Student Conference
The Diverse Philosophies Club also hosts the Annual William & Mary Undergraduate Philosophy Conference, a tradition which started in March 2011. The Conference is a two-day long event in which students from the College and other universities share papers, receive critical feedback from each other and faculty, and enjoy a keynote lecture by a notable guest philosopher.
The 2018 conference was held on March 17th and 18th. The keynote speaker was Dr. Andrew Moon of Virginia Commonwealth University, and the program is below.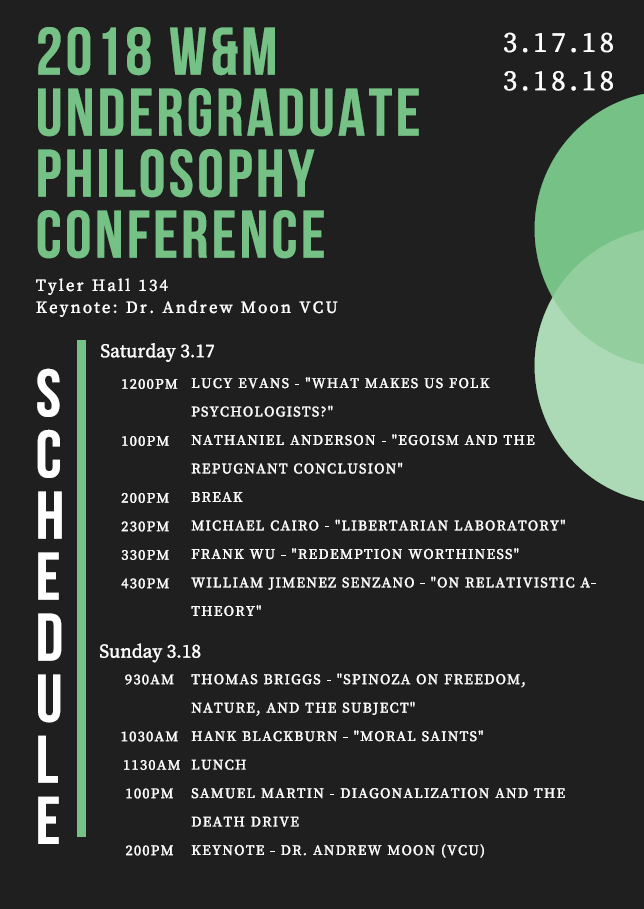 Keeping Up With Events
Interested students are encouraged to e-mail the co-facilitators to be added to the listserv. You should also check out the department's Facebook page for the latest updates on philosophy club events.
See the event calendar for this year's department colloquia, which philosophy club members are encouraged to attend.