Minister's House, Family Farm
The 19th century occupation by households of the Rev. William Chiles and descendants.
After purchasing the farm and house in 1841 for $3,400 Rev. William I. Chiles began to establish himself and his family in the community. Originally from Caroline County, Virginia, he had married a daughter of the Shepard family. Outside of farming tobacco, Chiles served as the pastor for Nanjemoy Baptist Church from 1837-1855 and from 1867-1874. During the early 19th century in this part of Maryland, Baptists competed with other Protestant denominations after having been harassed in the colonial period. Reverend Chiles was successful in helping Nanjemoy Baptist Church to flourish and thus was noted for his success as not only a minister, but as a community organizer. He served on a Temperance Committee to amend local ordinances to limit, and eventually to prohibit, the sale and consumption of alcohol.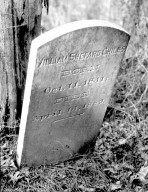 Rev. Chiles died in 1874 while still pastor at Nanjemoy. He had baptized more than four hundred people during his tenure as a Baptist minister. Other than his duties at Nanjemoy Baptist Church, he had also established a mission church in nearby Newburg. Among those baptized by Rev. Chiles were numerous African Americans, who eventually broke off to form their own church.
In 1850 Chiles' family consisted of his wife, Jane, a son named William S., and two daughters named Mary and Ida. Another unknown white woman, perhaps a sister of William or Jane and between the ages of 30-40 years of age, was also listed as living in the house.
During the 18th-19th centuries the land around the homesite would have been mainly agricultural fields, allowing a broad view of the Potomac River from the house. Since the river provided major transportation routes via ferry, barge, and steamboat, being oriented toward it was important. Also visible from the house were other farm structures such as the dairy, smokehouse, wharf, and most importantly, the slave quarters. Since the Reverend Chiles held fourteen African Americans in bondage, maintaining control over them would have been part of managing the farm.