Environment and Settlement
Environment and Settlement
This area is home to a unique ecosystem, a long human history, and a community working to preserve its environment.
A Unique and Rich Environment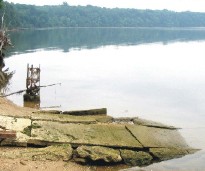 Groundwater flows out of the hillside at Douglas Point, creating a unique wetland environment called "spring seeps." These boggy areas are host to diverse animal and plant species, including orchids, sweetbay magnolia, sphagnum moss, bog turtles, and the endangered dwarf wedge mussel. The Douglas Point/Nanjemoy Creek area is also home to one of the largest great blue heron rookeries on the east coast. Bald eagles and ospreys are commonly seen and nest in dead trees along the riverbanks. Beavers, otter, waterfowl, deer and many other species may also be seen around the Chiles Homesite.
As recently as the 1930s, the landscape around the Chiles Homesite was patched with open fields. A sequence of aerial photos shows rapid regrowth of trees after the farm was abandoned. Today the area is densely wooded.
Settlement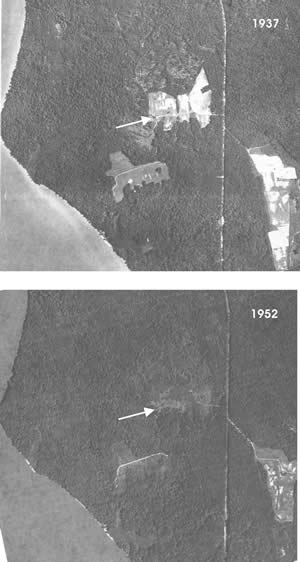 Human habitation in the Charles County area has lasted since approximately 10,000 years ago. Early native people settled along the Potomac River to hunt, fish, and trade. These camps eventually changed into farming villages, which then became part of complex regional societies. In 1608, when Captain John Smith voyaged up the Chesapeake Bay to the Potomac, he met the Potopaco, a tributary group of the local Piscataway Nation.
During the 1600s, European colonists cleared farmland and used existing Indian fields to begin raising tobacco. Their roughly built wooden houses with posts set directly in the ground decayed quickly, leaving few traces. Beginning around 1700, brick houses, or at least brick chimneys and foundations, became more common. Remains of the early houses that once dotted the landscape are hard to find. Some can only be located now by archaeological survey. If the researcher is lucky, pieces of brick rubble, stone foundations can be seen on the surface, or as is the case with the Chiles Homesite, a chimney still stands.
Photo right: During the 1930s, the Chiles Homesite fields still were scattered across the landscape of Douglas Point. Only 15 years after the top photo was taken, the site was hemmed in with second growth trees. Today Douglas Point's densely wooded habitat is home to a host of plant and animal species.
Map of the Area
This is a portion of Augustine Herrman's map of Virginia and Maryland. Born in Prague, Herrman was declared the first naturalized citizen of Maryland in part for drafting one of the earliest maps of the Chesapeake Bay. The map took just over a decade to produce and was submitted in draft form in 1670 and first published in 1673.
(Note the symbols used to represent English colonial settlements and Indian villages along the waterways.)