From faculty/student research and student internships, to innovative community partnerships and widespread volunteerism, the university is promoting sustainability by producing leaders for tomorrow's world who understand both the challenge and the opportunity in a sustainable future.
CAMPUS SUSTAINABILITY MONTH!
In conjunction with Campus Sustainability Month, W&M Sustainability will host a series of outreach events surrounding the topic "Eating Sustainably." Trained EcoReps will be tabling at Sadler, present at Sustaina-bite, host a trip to the Farmer's Market, take over our Instagram for EcoChallenge. They will share current initiatives, opportunities, tips, and more! Follow us on our social media for more information throughout October, participate, share, and challenge a friend or two! 
Submit Your Green Fee Proposal by Oct 11!
W&M Sustainability is accepting Green Fee Proposals now! No ideas are too great or small. If you have an idea that you would like to make it into a reality, send us your proposal. Proposals are accepted from all students, faculty, and staff. If you have questions, send us an email at [[sustain]].
Apply to the Earth Week Committee!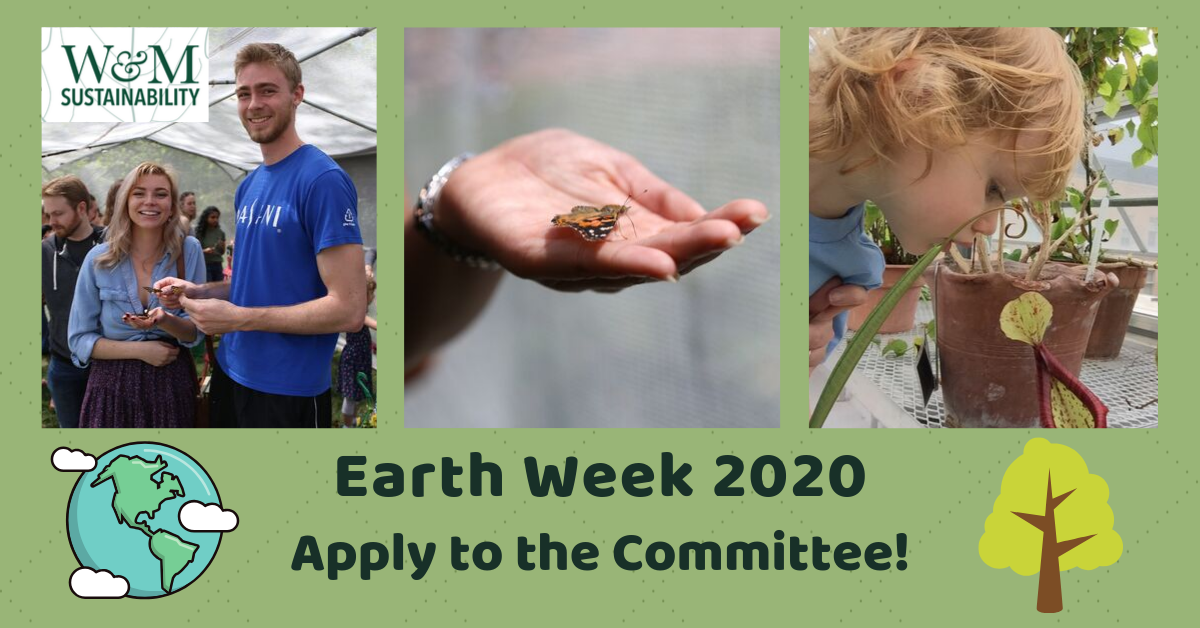 Join W&M Sustainability in planning Earth Week 2020! If you're a student with a passion for environmental awareness and skills in organization, we want you! Open positions are: Logistics Coordinator, Business Liaison, Volunteer Coordinator, Events Recruiter, and Marketing Coordinators.
2nd Sustaina-bite: Eating Sustainably
October 17 | 12 PM | Studio B, Wellness Center
 
Our 2nd Sustaina-bite this semester will explore more on "Eating Sustainably." Open to faculty, staff and students, featuring information that can be applied by all. Take a bite and learn about sustainable dining options on campus from EcoReps and America to Go filters from Dave Zoll. Register for lunch by Oct 15 or just drop-in and listen!
Trip to Farmer's Market and Recipe Demo!
Join the EcoReps on October 19 for an educational trip to the Farmer's Market to learn about tips and tricks on how to eat locally on a budget from local vendors and experts, followed with a recipe demo by the EcoReps! 
Join the W&M Sustainability Team
W&M Sustainability is accepting applications! Volunteer, lead, learn and create with W&M Sustainability!
Have a question? Have an idea for a project? Want to get involved? Contact us! [[sustain]]