W&M announces spring, summer 2021 Green Fee awards
The William & Mary Committee on Sustainability has announced the spring 2021 and summer 2021 Green Fee awards. With the promotion of sustainable practices at the forefront of these grants, the Committee on Sustainability members approved a total of $35,712 to be spent across a broad spectrum or projects, from academia and research, to operations that advance sustainability on campus. 
Fifteen proposals were submitted for the awards, and 11 projects were selected including nine spring projects and two summer projects.
Since its establishment in 2008, the W&M Green Fee program has funded more than $1.7 million worth of sustainability-related projects. The Green Fee funds sustainability research, outreach, operations, and much more. The committee accepts Green Fee proposals every semester.
This spring and summer's Green Fee projects are:
Bringing Back Beekeeping, Phase I
$400 to Madeleine Assaad '24 and Randy Chambers, Director, Keck Lab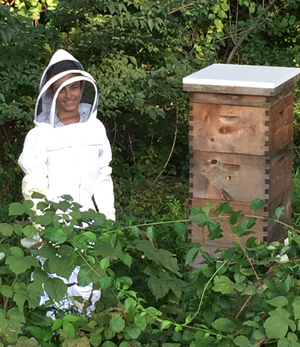 Bees are incredibly important pollinators, both in agricultural production and for local, wild flora. Insects such as honey bees are critically connected to social and environmental factors such as pollination, seed dispersal, food security and maintenance of biodiversity. However, worldwide bee populations are currently in decline.
Funds will be used to install and care for two new honey-bee hives on campus. Considering the survivability and production of the hives upon completion of Phase I in spring 2022, Phase II will bring in students to participate in a beekeeping club, as well as make efforts to harvest honey, beeswax, and expand to three or more hives. 
Convert School of Education Stairwell and Restroom Lighting to LED
$5,000 to Elizabeth Kiewiet, Events Manager at School of Education, and Farley Hunter, Associate Director with Facilities Management
The switch to LED lighting will reduce the amount of carbon dioxide going into the atmosphere by replacing less-efficient compact fluorescent fixtures. Through lower electrical costs, the payback is estimated to be within five years. The extended lifetime of LED lighting will also reduce the frequency of replacing staircase bulbs and the associated operational costs.   
Electric Vehicle Charging Station for VIMS ESL
$2,350 to Richard Snyder, Professor and Director, VIMS Eastern Shore Laboratory Wachapreague
The Virginia Institute of Marine Science Eastern Shore Laboratory in Wachapreague, Virginia, is reconstructing four of its older buildings — including administration offices, maintenance and fabrication shop, group residence building and an aquaculture hatchery — and adding a new research building.  
As part of rebuilding the ESL campus for the next 50 years, an electric charging station will be installed with the funding provided and made available to resident staff, visitors to the facility and the general public. The campus is anticipating that new motor pool purchases will include electric vehicles, and they will now be able to support and encourage the use of electric vehicles by visiting users of the facility.
Main Campus Solar Charging Bench
$5,000 to Emma Rebour '21, Colleen Norton '21 and Rowan Lockwood, Professor of Geology
Given the ongoing pandemic and beautiful natural spaces on William & Mary's campus, students need more outdoor areas to study. The university's pending Climate Action Plan demonstrates a commitment to renewable energy and student support for this is across the board. W&M's solar charging station will display a large solar panel and allow students to charge their laptops/computers and sit outside. This solar workspace from Sunbolt provides up to 120 volts of energy and gives students an outdoor study area where they can sustainably charge their devices.
Electric Vehicle for IT Infrastructure
$5,000 to Norman Elton, Director of IT Infrastructure
Information Technology uses a combination of internal-combustion and small electric (golf car) vehicles. This grant will purchase an additional small electric vehicle. Purchasing a gently-used vehicle is both cost-effective and environmentally-conscious, saving an existing vehicle from being scrapped. To help promote a culture of sustainability, the vehicle would bear the "W&M Leaf" logo, acknowledging support of the Green Fee program, in addition to the logo of W&M IT.
IT vehicles are constantly on the move, so the department hopes this is a highly visible opportunity to remind students of the university's sustainability efforts. The vehicle will be equipped with lights and turn signals for safe operation, including early morning and dusk. A fold-down rear seat allows the driver to transport three passengers. 
James Monroe's Highland Honey Bee Education Kiosk
$1,572 to Emma Manclark, '24, Sara Bon-Harper, Executive Director at James Monroe's Highland, and Nancy Ocasio, Business and Operations Manager at James Monroe's Highland
James Monroe's Highland hosts a volunteer-led bee project along with Monticello and other neighboring properties to increase the viability of local bee populations and promote conservation efforts. The established hives are managed by dedicated community volunteers and the projects are sustained through donations. Creating an educational kiosk will increase project visibility and community awareness, while also creating more opportunities to expand strategic outreach. 
The kiosk will also establish partnerships with local county schools to create and maintain content. This project will further William & Mary's sustainability efforts as it allows for the university to support sustainability initiatives within communities, bringing attention to the Highland's ecological stewardship initiatives and providing the community with an opportunity to offer financial support.
Connecting dietary chlorophyll, sunlight, and increased antioxidants to healthy aging
$2,000 to Lisa M. Landino, Professor of Chemistry
The ultimate green molecule is chlorophyll, the light harvesting pigment of plants. By consuming green plants and exposing ourselves to sunlight, one can use the sun's energy to perform chemical reactions that ultimately influence health, longevity and even susceptibility to diseases of aging. This funding will support research to understand the chemical recycling of catechols like caffeic acid (found in coffee) and catechin (abundant in green tea) by chlorophyll metabolites, red light and ascorbic acid. Further, the project is developing a color-change test to screen other molecules that may undergo similar recycling. Outreach to the wellness community on campus will emphasize connections between diet, outdoor activities and health. 
VIMS Native Plant and Pollinator Garden
$4,800 to Malina Loeher, Meredith Evans Seeley, Julie Gross, Candice Vinson and advisor Mark Brabham, Director of VIMS Facilities Management
The VIMS campus is located along the mouth of the York River, a short walk from the public Gloucester Point Beach. Along with the thousands of visitors VIMS hosts each year for tours, seminars and other events, local residents often make the trek through campus to get to their nearby beach. The Native Plant and Pollinator Garden will be located in an area that every VIMS campus visitor will pass by, adjacent to the Visitors Center. 
Fitted with benches and informative signs on local flora and fauna, this garden will become a highly trafficked beautiful relaxation spot on campus for adult and student tour groups, campus visitors and those walking down to the beach. Instillation of the garden will serve as an example for private and public gardens, showing how simple it is to bring lush, native flora to spaces along with sharing the positive sustainability impacts gardens have for the community. This garden will serve not only an educational purpose, but also play a vital ecological role in providing a microhabitat for native butterflies, bees, and more, ensuring our commitment to conservation of our local fauna as well.
Modeling American Chestnut Seedling Establishment and Growth in a Natural Environment
$4,000 to Erica Collins '22 and advisor Harmony Dalgleish, Assistant Professor of Biology

In the early 1900s, the American chestnut (Castanea dentata) was almost completely wiped out by the chestnut blight fungus (Cryphonectria parasitica). What used to be one of the most common canopy trees in eastern North America is now functionally extinct. This project will use mathematical models to determine what factors influence the dispersal and establishment of seedlings. This knowledge will be useful to inform restoration efforts that enhance regeneration of chestnuts that are blight resistant. 
Reducing Turtle Bycatch in Blue Crab Traps
$5,500 to Michael Gibson '23 and advisor Randolph Chambers, Professor of Biology and Director of the Keck Environmental Field Laboratory
The diamondback terrapin is an estuarine/marine turtle that inhabits much of the U.S. Eastern coast and is the only saltwater turtle resident in the Chesapeake Bay. A major source of mortality for terrapins today is drowning after being caught in traps set for blue crabs, a widespread and lucrative fishery in the Chesapeake Bay. The aim of this project is to research and develop an easily inserted, 3D-printed device that prevents terrapins from entering blue crab traps while retaining the trap's effectiveness at catching large crabs. Supporting the conservation of diamondback terrapins in this way elevates W&M and the COS in their commitment and dedication to local and regional sustainability of Virginia's natural resources.
Compost Bin for Green & Gold Village
$90 to Sydney Thayer '24 and Jake Poppiti '24, Green & Gold Village Community Council Representatives
The freshmen residence complex Green & Gold Village currently has one compost bin to service over 400 residents.  The current compost bin frequently overflows and has proven to not be enough to service all the residents who live in Green & Gold Village. This funding will allow for Green & Gold Village to purchase an additional compost bin for the complex. This additional bin will ensure that all residents have the ability to dispose of their compostable items and continue to practice sustainable habits.