W&M awards seven sustainability projects Green Fee grants
The William & Mary Green Fee, established in 2008 by student request, has provided over $1.6 million in funding for sustainability-related projects. This fall, the W&M Committee on Sustainability (COS) awarded Green Fee proposals for seven sustainability-related projects, totaling $24,038.
The Green Fee projects are intended to advance the knowledge and application of sustainability across academics, engagement, operations and planning, through the university's tri-partite missions of teaching, research and public service.
W&M Sustainability defines sustainability as the dynamic interactions between society and the environment, operating in ways that improve the well-being of all. This recognizes the multiple dimensions of society, such as individual well-being, culture, livelihoods, economics, and governance.
A sustainable world is flourishing societies, individuals, economies and environments, said Calandra Waters Lake, W&M director of sustainability.
"Sustainability as a mindset recognizes the connectivity and intersectionality of the whole picture. It is a lens that can be applied to any topic," she said.
The projects that received funding this year provide an array of research, outreach and community building to advance William & Mary's sustainability initiatives. Sustainability will accept proposal again in spring 2021 for Green Fee projects and summer research grants.
Bichromophores in Atmospheric Aerosol Formation
$2,000 to Chris Hettwer, Class of 2021, advised by Nathan Kidwell, assistant professor of chemistry                        
Utilization of laser-based spectroscopic techniques, including Velocity Map Imaging (VMI) and UV/vis spectroscopy, will help to confirm and expand on the theoretical calculations of bichromophores and their role in aerosol formation. Experimentation will shed light on the energetics and reaction dynamics of these molecules that are of great interest in atmospheric photophysics. These bichromophore molecules have been implicated in aerosols and could have profound effects on global climate change, health and ecology.  By consolidating the understanding of atmospheric aerosol formation and employing experimentation, the hope is to inform future sustainable development projects related to atmospheric chemistry.
Carbon Negative Algae-based Materials
$5,000 to Aaron Stapel, Ph.D. student in applied science, and advisor Hannes Schniepp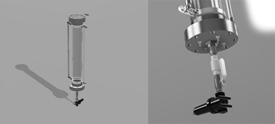 The Schniepp biomaterials lab has investigated the potential for producing carbon-negative performance materials from microorganisms living in the oceans and other water bodies. The aim is to grow sustainable and biodegradable replacements for everyday materials thereby sequestering carbon. We have shown that this can be done with a type of algae growing right outside the William & Mary Integrated Science Center, in the Crim Dell: diatoms. To grow algae at scale, a photobioreactor is required. This Green Fee Award will help build a PBR tailored to our needs and grow microalgae species isolated from the Crim Dell in a sustainable fashion, at the scale necessary to produce bulk materials. 
Developing a W&M Sustainability Toolkit
$5,000 to Robert Rose, executive director of the Institute for Integrative Conservation (IIC); John Swaddle, biology professor/faculty director for IIC; and Erica Garroutte, program manager for IIC

Effective sustainability plans must be broad enough to address the complex socioeconomic drivers of environmental resource use but specific enough to translate strategic plans into organizational, departmental, and individual actions. In collaboration with the Sustainability Office, undergraduate students will develop a W&M Sustainability Toolkit that will serve as a framework for departments, offices and programs to translate the W&M Sustainability Plan into actions that align with their individual goals and priorities. In addition, the student will test the utility of the toolkit by developing a sustainability plan for the Institute for Integrative Conservation. The aim is for this W&M Sustainability Toolkit to support the broader engagement and empowerment of W&M offices and departments in addressing sustainability at all levels of the campus resource usage.
Hydrogen Storage in Boron
$4,150 to Ethan Molin '23 and advisor David Kranbuel, chemistry professor emeritus
The aim of this project is to explore the interaction between hydrogen and Boron Nitride Nanotubes (BNNT) and to develop methods by which hydrogen storage can be facilitated with BNNT. This application holds great promise as development of methods for hydrogen storage using BNNT will help facilitate our advance to a more sustainable society.  This will allow the full potential of renewable energy sources, which typically necessitate massive scales of energy storage, to truly be utilized since costs and the environmental impact of lithium ion batteries currently limit the degree and speed at which renewable energy sources can be integrated into our energy supply.
Law School Solar Umbrella
$5,000 to Erika Bosack '22, Student Environmental and Animal Law Society sustainability officer, and advisor Katey Howerton, associate dean for advancement
William & Mary Law School shares in the institution-wide commitment to sustainability. This grant will cover the majority of the costs of installing a solar umbrella and table on the law school patio, which is the primary outdoor study space. Match funding will cover the remainder of the cost. Digital connectivity will make the space much more conducive to electronic coursework, while also serving as an example of how renewable energy can help move the community forward. Productive outdoor study areas are especially essential in the age of COVID-19, because they will help with the transition back to working onsite.
Wildlife Flipbooks
$388 to Anna Bi Ledwin '21, and Randolph Chambers, biology professor
This project will create digital wildlife flipbooks that contain loads of information about the common flora and fauna found around William & Mary's campus. This flipbook will be accessible through a QR-code and placed in areas around campus with a lot of nature, such as the path behind Crim Dell and the shore of Lake Mataoka. The hope is that this project will increase everyone's knowledge and awareness of the magnificent wildlife that graces our campus. 
WMGIC
$2,500 to WMGIC Team Hannah Garfinkel '22, Kiran Rachamallu '23, Grace Riley '22, Claude Owen '22, August Wagner '21, Thomas Liu '22 and advisor David Trichler, Global Research Institute interim assistant director
The
Global Innovation Challenge @ William & Mary (WMGIC)
is a recognized student organization and an annual hack-a-thon style case competition in which interdisciplinary teams create innovative solutions to current issues in international and sustainable development. Through the fall 2019 Green Fee, WMGIC successfully rebranded itself as the premier collegiate-level case competition focused on the UN Sustainable Development Goals. With the support of the Fall 2020 Green Fee, WMGIC's executive board will work with faculty and an outside partner to design a year-long SDGs focused research component, expanding the organizational scope beyond 24 hours and impact beyond William & Mary.