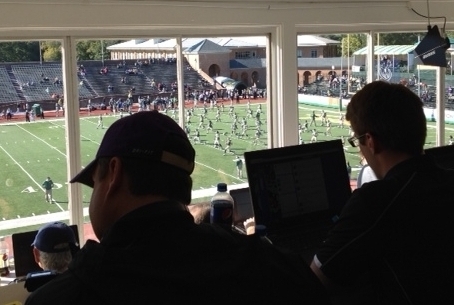 "Touchdown, William & Mary!"  Have you ever heard these words on the radio?  How about on TV?  Have you ever followed along with the Tribe on Twitter?  Well, if you have, you've benefitted from the networking services of W&M Information Technology.  None of that would be possible without their assistance and expertise.
Networking and football?  You bet!  IT works at every home football game, and basketball, too.  Actually, at least two IT staff members work at any home athletic event that is broadcasted.  If the game is televised, it requires three people from IT to be present. Primarily, we ensure communications: helping coaches, radio announcers, media and stats keepers to connect to our network and phone lines and ensuring that they stay connected throughout the game.
Preparations start before game day.  Members of IT's networking team go to the stadium the day before to check all the network connections, wireless access points, phone jacks and DSL lines in the stadium.  This includes the press box, announcer booths, coaches' boxes and the equipment panels along the field.  
On game day, the IT team arrives two hours prior to the start of the game.  Armed with a laptop, phone test set, network tester, patch cord and radio, they double check the connection points, and assist in connecting people to our network – especially those from the visiting team who are new to the system.  For the duration of the game, one member of the IT staff is stationed in the press box and one is with the radio announcers on the opposite side of the field.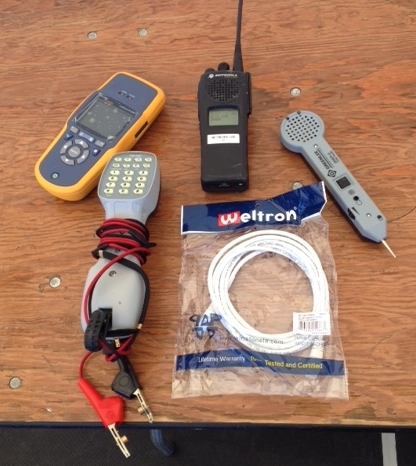 If all goes well, it can be a fairly smooth process.  However, it's not always an easy task.   Anyone who has attended football games this season knows weather conditions can wreak havoc on a game.  When there is rain, IT has to work quickly to make sure networking equipment and cables stay dry and operational.  Wind and lightning can also cause damage to IT equipment and interrupt connections.  Swift responses are necessary to keep the communication lines open. 
And IT does more than just networking.  "We're at the games to help.  As long as we aren't busy with IT issues, we use our technical know-how to help out wherever we can," says Scott Fenstermacher, Networking Manager.  Fenstermacher recounts several instances of this. He once helped repair a scoreboard outage during a game.  He also recalls mopping up rainwater during a storm that was pooled around electronic equipment underneath TV announcers – while the cameras were rolling!  Earlier this season, Norman Elton, IT Networking Engineer, helped fix wiring in the W&M coaches' headsets when they lost communication with the players on the field.
So the next time you are following a football game­ - in person, on TV, on the radio or on Twitter - think about how that information is getting to you.  IT works hard to make sure those communication lines are open and available throughout the game.   Go Tribe!