StudioAbroad Migrates to the Cloud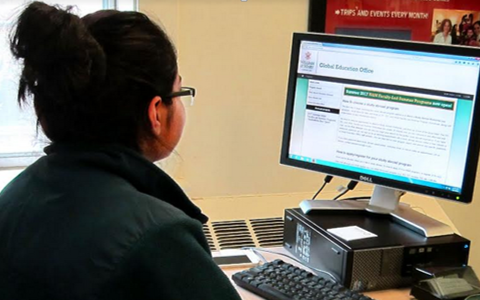 The migration of IT systems to the Cloud reflects the ever-changing field of information technology and the landscape of technological innovations. Movement toward the Cloud has been going on within W&M IT for several years now. The movement has been accelerated in recent years by the Business Innovation Initiative.
StudioAbroad, the system the Reves Center for International Studies uses to manage study abroad applications, has recently moved to the Cloud. This migration has made it easier for students and staff alike who must submit and process these materials.
The project began in May of 2016 and was completed in October. Two teams worked on the migration, one from IT and one from the Reves Center. The IT team consisted of the software systems and engineering team. Adam Ferguson, global education associate, led the team within the Global Education Office of the Reves Center.
Ferguson emphasizes that while StudioAbroad retains the functionality as before, with several improvements, it has an updated look that is more in line with W&M's new visual identity. He explains: "It was designed around the previous design. However, now it is scalable, which means users will be able to easily access it on all devices, including cell phones and tablets."
Additionally, students can now upload their documents electronically, whereas before, the documents had to be printed out, which not only makes the process easier for students and staff, but also more eco-friendly. Ferguson adds that by moving more systems to the Cloud, W&M is "fulfilling their overall goal of reducing environmental impact. It is also saving students' time because they are able to accomplish processes digitally."
W&M IT's Database Administrator, Bob Brest, says that the university hosted the previous StudioAbroad system on premise; however, since the system has migrated to the Cloud, the StudioAbroad vendor, Terra Dotta, hosts it. Brest explains: "Now that Terra Dotta hosts StudioAbroad, they have to maintain and pay for the servers. W&M is able to save money and resources and allocate those saved resources to other projects."
However, there is a disadvantage to StudioAbroad not being hosted on campus. "When the host of the system gets moved to a different location, data acquisition changes," Brest explains. "This means that we have to practice caution with security protocols, and pay attention to how the data gets transferred and how it is formatted."
Brest adds that, "We need to know how the hosts at Terra Dotta are storing data and how they protect it from unauthorized users who may pose potential security threats. That means we have to be knowledgeable about what level of encryption Terra Dotta uses to ensure that the data cannot be intercepted. We use the same caution with any Cloud application."
Ferguson and Brest both emphasize that the migration of StudioAbroad to the Cloud went smoothly and that they are pleased with what the new version has to offer the W&M community.