Qlik is Modernizing Data Analysis at W&M
To help make effective and efficient decisions, William & Mary wants to better employ the use of data analysis. The university has recently purchased licenses to two data discovery tools that are owned by the business intelligence and visualization software company, Qlik. These two tools, Qlik Sense and nPrinting, will provide an opportunity for W&M to examine data in diverse, contemporary ways that will allow the university to gain new insight into decision-making processes.
Qlik Sense is a data visualization tool that will allow W&M IT to make customizable apps that provide visualizations. These apps will pull data from multiple systems and data sources, bridging together data points that had previously had to be manually compiled. Essentially, these customizable apps will allow faculty and staff to access data with less hassle. And the visualizations, which are mostly charts and graphs, will enhance the ability to understand and analyze that data.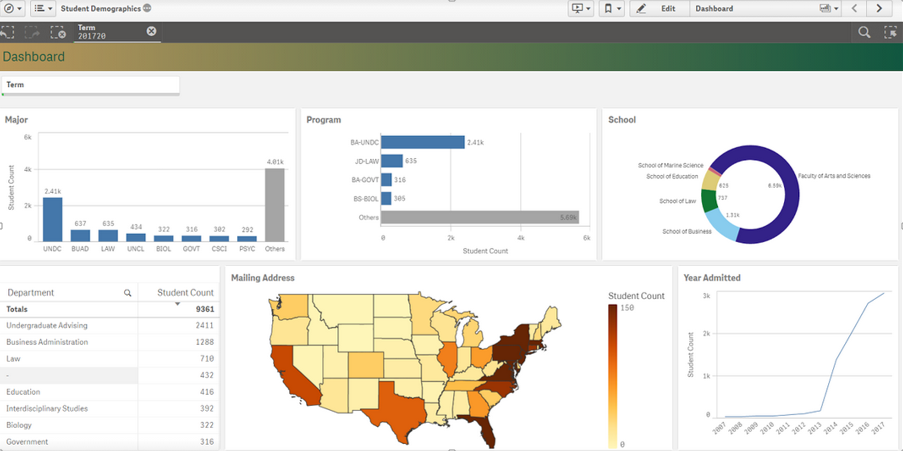 Director of Data Management, Rachel Pace of W&M Information Technology, will be overseeing the project team which will consist of members of the IT's Data Management and Constituent Relationship Management (CRM) teams.
Before the implementation of Qlik, W&M first used Discoverer as a reporting tool, but it had its limitations. Pace says that "IT had known that Discoverer did not meet the data needs of the university, but at the time, the infrastructure was not yet available to put in a better and more efficient data analytics tool. So, two to three years ago, we bought Argos in hopes to replace Discoverer, but it was bulky and difficult to use."
A robust search function in Qlik makes this self-service data-pulling feature even more appealing. Plus, with the ability to embed Qlik into already existing systems, such as Banner Finance Self-Service and Salesforce (when available), accessing Qlik will be much easier than accessing current systems that live separately from the data source.
"The main attraction of Qlik Sense," Pace explains, "is its versatility. One of the best things about it is that users can tell where the university stands with various operations through its efficiency with data analysis." Pace adds that, "Qlik Sense will get data in the hands of the people who really need it. It will help users make tough decisions and will identify when changes need to be made."
The second tool that will work alongside with Qlik Sense is Qlik nPrinting. This will allow custom reports to be made quickly and easily due to its feature of a new drag-and-drop tool. In addition, through Qlik nPrinting, users will be able to schedule and deliver reports. However, some report-related functionality is still under development, and for that reason Discoverer and Argos will still be available for use until a full replacement can be implemented.
Qlik will have to be phased in slowly, largely because a complex security infrastructure, time-intensive data merges, and sophisticated back-end constructs are needed to enable each Qlik app. The first app to be released is finance-related. It will enable budget managers across campus to access and visualize the university's financial information. The release date is expected to be in February of 2017. 
Next on the docket is a course capacity planning Qlik app for the Dean's Office in Arts and Sciences. The app will provide data that will aid in course, faculty, and student planning. The release date for this app is expected to be some time in the Spring 2017 semester. 
Pace explains that "the goal is to start off small in order to ensure we get the infrastructure pieces right. Once that is completed, in the long run, Qlik Sense applications will be used more broadly on the administrative side of campus."