Paperwork Made Easy With DocuSign
Every year, a constant stream of forms, payroll deduction requests, and a variety of other financial reports flood the William & Mary Office of Finance & Administration.  Some paperwork arrives via email, others are sent in as hard copies, and some documents are faxed.
The administrative personnel responsible for managing the abundance of paperwork carefully sort through the digital files or printed copies, but in this herculean task, the possibility of human error is ever-present.  Sometimes the lack of standardization can result in duplicate copies being printed and the lengthy process paperwork goes through increases the risk of data inaccuracy, despite the hard work of the administrative personnel.
For example, Procurement Services at William & Mary processes approximately 250 contracts yearly.  The information from each contract must be physically transferred to Banner, and then moved into a document that can be uploaded into an imaging system.  During these steps a processing number is created after which an email is sent to the originator of the request.  But these steps are only the tip of the iceberg, and several other steps must occur before the information can be filed away in a type of "digital cabinet."  Throughout the process the information is touched multiple times.
Corinne Picataggi, Director of Software Systems in Information Technology, wanted to find a better solution, saying "With DocuSign, I saw the potential to eliminate data entry and process inefficiencies. With DocuSign, nobody has to manually type in the values. They are automatically loaded into Banner or other university enterprise systems, eliminating the need for data entry and changing the process into a data integrity audit."  She spearheaded the introduction of DocuSign at W&M. Traditionally, DocuSign is used as a tool for industries where it eases the process of obtaining valid signatures. However, at W&M DocuSign functions a little differently. 
With DocuSign, W&M can eliminate the need for redundant data entry because the program rearranges how a file is processed.  Both the forms and delivery process are standardized in DocuSign, which removes the risk of creating duplicate or redundant submissions.  Documents processed though DocuSign can also easily be routed to their final destination, bypassing the previous steps required to register a form.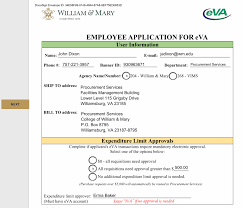 Another exciting feature is that approving forms in DocuSign also takes less time, only a couple of minutes.  Rather than needing a person to transfer data between various formats, DocuSign dumps the information into Banner itself and automatically creates an image that is associated with the respective record.  Additionally, whereas before paperwork was managed one customer at a time, DocuSign allows administrators to handle multiple cases simultaneously. 
Various offices across campus have already begun to implement DocuSign within their systems, such as the Registrar's office, the Dean of Student's office, and our various graduate schools. 
The VA-4 form was the first form to be automated with DocuSign, piloted by Managing Director of Accounting Operations, Ruth Erb.  Regarding her DocuSign experience, she said "We're able to accelerate and standardize processing to improve efficiency.  We've also been able to improve accessibility, ease of use, and enable global access.  The intelligence of the system has also been great."  
Now around 3,000 VA-4 forms per year are no longer manually typed.  Besides the VA-4, there is a long list of forms waiting to be automated.  "We tried to build the process framework so that once we have the data, we can easily onboard new forms at a faster pace," said Picataggi.  Whereas the first form took about a year to fully implement, Picataggi expects the future turnaround time for forms to only be about 6-8 weeks.
In conjunction with this, IT is looking to expand the type of forms that can be automated with DocuSign.  A recent form added to the system was the W-9 tax form.  It is more complex than the VA-4, allowing DocuSign's automation to help guide users through necessary steps.  A future next step will be the translation of the W-8 tax form. James Strawn, project manager for DocuSign, also discussed other places DocuSign has been implemented. "With DocuSign we're able to put it behind CAS [W&M login process] and then populate information on a form which helps eliminate error, is a safer process, and even makes the paperwork more legible."
W&M is an early user of DocuSign in Higher Ed for administrative automation, but it has been immensely successfully thus far. The DocuSign team has even invited the university to discuss our experiences with DocuSign with other schools.  Furthermore, Picataggi will continue collaborating with other schools at an Ellucian conference (the corporate provider of Banner).  Before DocuSign, measuring the efficiency of convoluted processes was difficult, but with DocuSign, clear positive results are easily found.