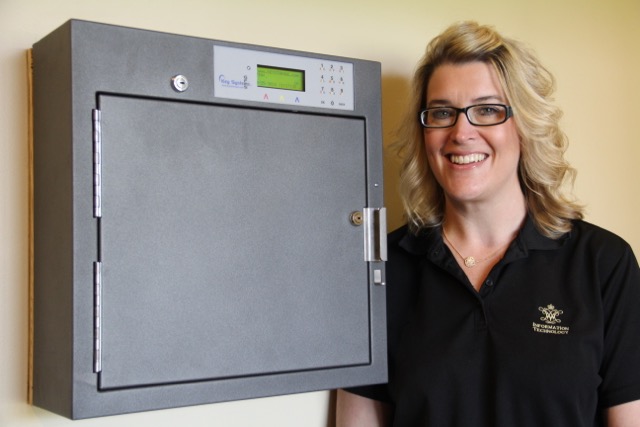 In the fall semester, a set of William & Mary master keys for residence halls was lost. In response to this incident, the university decided to implement a new master key storage system using state-of-the-art technology that increases security and accountability for the keys. Information Technology aided Residence Life and Facilities Management in this effort to ensure a safe community for all W&M constituents.
What is KeyBox?
"Global Facilities Management System (known at W&M as "KeyBox") is an electronic key and security asset management system," explains W&M IT's Melissa Marshall. Marshall is the application engineer for the system, coordinating efforts between network engineering, residence life, facilities management and the KeyBox project team.
Nineteen new key cabinets were installed in various locations on campus. The KeyBox software lets administrators monitor and track building master keys entering and exiting the cabinets using a web-based portal. Each cabinet uses either a set of credentials or the WMuserid of authorized users to grant access privileges.
Ensuring Security
The task set before the various members of the project team was no small order. Providing an effective oversight system to keep track of all the physical keys on campus took a concerted effort from multiple stakeholders.
Residence Life's Director of Housing Operations Chris Durden played a critical role in coordinating the effort. A pivotal aspect of Durden's job involves monitoring building masters and maintaining the security of every campus hall. Durden worked closely with W&M IT and Facilities Management to develop back-end functions, protocols, data entry, and permissions to set-up the system.
"This increases security and accountability around master keys," says Durden. "Now we can better monitor and track master keys – this way they will be secure in the key cabinet until needed – instead of employees carrying a ring of master keys all day."
Furthermore, the new web-based system allows for much greater oversight. "We maintain a large number of physical keys and accountability and security are paramount," explains Marshall. "KeyBox allows us to manage storage, track usage and maintain inventory and security of these assets." The new system undoubtedly upgrades the security of the university's master keys.