IT Spotlight: Melissa Rouette
Throughout the month of March, W&M Information Technology will be celebrating Women's History Month by shining a spotlight on some of the ladies who keep the department and the university connected using the latest technology.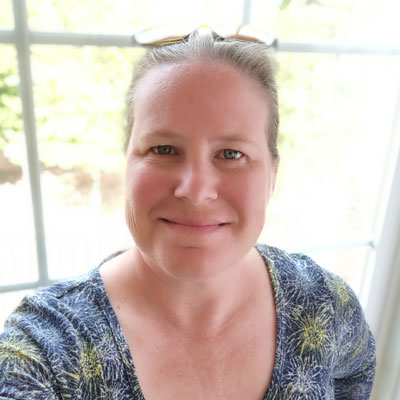 Melissa Rouette is W&M IT's Business Intelligence Developer on the Data Management Team. Learn more about Melissa, her role on the team and some of her fondest memories from her (almost) decade working in IT. 
What year did you start working at W&M? In IT?
I started at W&M in 2005 in the basement of Old Dominion Hall working for Development (now known as University Advancement) before we moved over to Discovery 1 in New Town. I made my way back to campus and started in W&M IT in 2013.
What were you doing before that?
Working for a small local Fundraising Software company where my most favorite position was Technical Writer and Quality Assurance Analyst.
What was your first title? What is your current title?
I started in IT as a Programmer and am currently a Business Intelligence Developer.
How do you explain what you do in layman's terms?
I wear many hats and juggle many responsibilities but my most common task is collecting and compiling data from different sources and reporting it back to my customers in a format that is beneficial for them.
Have you served in other roles in IT (or at the university)?
I started in W&M Development (now University Advancement) as a Programmer working in the Development Computing Services department for eight years before I moved over to W&M IT where I became an Applications Programmer, then a Sr. Programmer Analyst and am now in my current role as a Business Intelligence Developer.
What has been the biggest technological advancement the university has made during your years in IT?
I would have to say that the ability to telecommute has been the biggest technological advancement, and especially most recently with the pandemic.  I have been so thankful to have the opportunity to have this in place.
Is there a project that stands out in your mind that was particularly interesting or fun to work on? Why?
I was tasked with heading up the yearly Faculty Verification project which helps aide in the accreditation of the university. I worked closely with each school's Dean's office, Institutional Accreditation & Effectiveness, Institutional Research, Registrar and Human Resources to streamline the process. This was by far my favorite project and my biggest accomplishment. Over the past eight years I have loved interacting with other departments on campus as well as really getting to know all the ins and outs of the data. Doing so has resulted in little to no yearly data updates for faculty and graduate students.  When I first took over this process it was extremely time consuming, not only for IT but for all the departments I previously mentioned. The first year there were hundreds of data anomalies that needed to be combed through and updated in order to clean up the data, it definitely didn't happen overnight, but we worked hard and collaborated together to put better processes in place and the number of data anomalies dropped lower and lower each year. Today we only have a handful of data updates that need to be made. Also, now that we have created the Faculty Verification Qlik App, it has empowered each school to track their own faculty and graduate assistant data throughout the year instead of just several weeks before the November 1 census freeze. 
How do you stay current with technology?
I attend conferences and training on new technology. Most recently I attended virtual training and conferences for BBCRM (WREN) for Advancement and Qlik Sense for my Business Intelligence office.
What do you like to do when you're not working?
Watching my son play baseball, playing Pokémon GO, watching movies, listening to music, bike riding and taking walks around the neighborhood with my family and our dog that we recently adopted.
Do you have a favorite memory from your time working in IT?
I loved working on the IT Events Committee. We had so much fun putting together events for holidays, celebrations, or just get-togethers to support our athletic teams by having tailgates and attending games, whether it be baseball, football or basketball.
What's unique about working in W&M IT?
The sense of community and working towards a common goal that benefits the university as a whole.