IT Spotlight: Kathleen "Kitty" Smith
Throughout the month of March, W&M Information Technology will be celebrating Women's History Month by shining a spotlight on some of the ladies who keep the department and the university connected using the latest technology.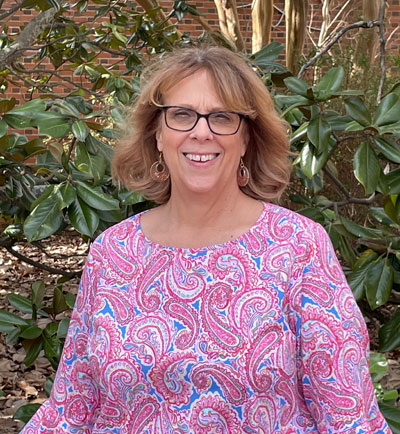 Kathleen "Kitty" Smith is W&M IT's Director of Business Services. Kitty has been a beloved member of IT and the campus community for 31 years, and has seen five presidents, six associate provosts of IT (now called CIOs), 13 offices in four different buildings, nine supervisors and one phone number. We sat down with Kitty to learn more about herself, her role at the university and some of the memories she has from her years in IT.
What year did you start working at W&M? 
I started working at W&M in 1991, and at the time there was no such thing as W&M IT. I was on the PC Maintenance team. Then in 1997 they merged PC Maintenance, Telecommunications, Audio Visual and the Computer Center into what it now IT. 
What were you doing before that?
Before I came to W&M, I was an electrician at Newport News Shipbuilding. Prior to that I served for eight years in the U.S. Navy. The last place I was stationed was Hawaii, but I've also lived in Virginia and California.
What was your first title? 
Technology Specialist. 
How did you end up in your current role as Director of Business Services?
After many years of managing the computer leasing program, I got to a point where I didn't want to keep moving computers and equipment around. My predecessor happened to be retiring, and the position was redone to make it more technical, which really appealed to me. I was ready for something different. 
What are some of your duties?
I have multiple clients and customers on campus. I serve the student population because I run the student bill and charge them for printing. I also have all departments on campus as customers because I run the IT bill and charge for phones, software, hardware and leased computers. I also have all of IT as a customer because I procure and get approval for all of our procurements and handle our budget. At the same time, I partner with the Procurement Office because I facilitate the IT approval process for the entire campus. I have my hands on everything. While the CIO runs IT for the university, I keep IT running. 
Have you served in other roles in IT (or at the university)?
I was briefly on the Learning Team which is now University Web & Design, but I found I am not happy unless I have a screwdriver in my hand, so I became a technical liaison. There was this idea that every group of departments should have a senior liaison and a technical liaison, and that the technical liaison would oversee the nuts and bolts for how to make things work and make sure all computers were operating properly. Then the computer leasing program was born. After we got the leased computers in place I moved over to the Technology Support Center and became a Level 2 Technician. That's where I stayed until I became a Lead Level 2 Technician and then moved to the Business Office. 
What has been the biggest technological advancement the university has made during your years in IT? 
It may sound odd, but I think the biggest thing that has impacted technology during my time in IT has been the mouse. When I first started, you sometimes saw occasional Mac computer with a mouse, but not many. When we started putting mice on computers, the computer went from a business machine to an entertainment facility for gaming and everything else and became something you could use at home. It made the interaction between the customer and computer easier, and when it became easier it became more fun. That's when PCs became widely used in people's homes. It all started with the mouse.
Is there a project that stands out in your mind that was particularly interesting or fun to work on? Why?
The computer lease program (formally known as the W&M Equipment Service Program (ESP)) was a huge project to roll out and was met with mixed emotions. However, it streamlined the process for budgets, allowing departments to budget for replacement computers. It also leveled the playing field. We no longer had departments with big budgets constantly purchasing brand new equipment and departments with less money using 10-year-old computers.  
How do you stay current with technology?
I just like technology. My husband calls me a gadget geek. I jump in and learn by doing. I don't like to use manuals. If I get stuck, there's Google. 
What do you like to do when you're not working? 
I love the water. In the summer I am always on the James River enjoying the water on my jet ski and kayaks. That is my happy place.
Do you have a favorite memory from your time working in IT?
The people in IT are great and I have made some really good friends here. I have great memories that we have made at work and outside of work. We love going on shopping trips and doing fun, one-off things. One time we even went to visit a psychic together after freshmen move-in day.
Another great memory I have is from W&M's 300th birthday. The university reserved Busch Gardens just for the W&M community and it was so much fun to walk around the park, see coworkers, have food and a watch a firework show.   
What's unique about working in W&M IT?
Let's face it, W&M is an old school and sometimes can be slow to change. In the IT world, technology is advancing so fast we and have to keep up. So that is something unique about working in W&M IT, it's that race to keep up and not miss opportunities on a campus that can sometimes be slow to change.