IT Spotlight: Julie Martin
Throughout the month of March, W&M Information Technology will be celebrating Women's History Month by shining a spotlight on some of the ladies who keep the department and the university connected using the latest technology.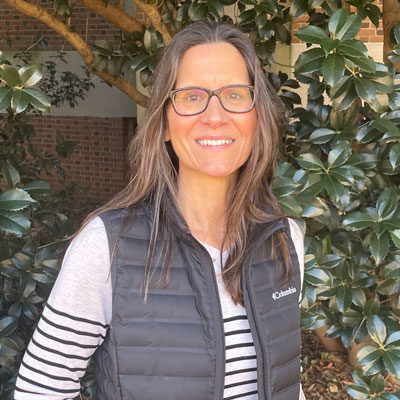 Julie Martin is a Technology Services Analyst for the Mason School of Business. Her journey at W&M has had many twists and turns, from her start at the circulation desk in Swem Library in the mid-1980s to her many years providing technical support for the entire William & Mary community as a Level 1 Technician in the Technology Support Center. Learn more about Julie and some of the work she has been most proud of during her many years at the university.
What year did you start working at W&M? 
I started working at William & Mary in the mid-1980s part-time at Swem. I took a break and came back in the early 1990s at the School of Business, working in Tyler Hall as an office administrator. After taking another break I came back in 2001 and worked in Financial Aid, but I had an interest in technology so I took some technology courses and when a position opened in IT I moved over to it in 2005 and have been here ever since. I just recently made the transition to the business school after many years working in the Technology Support Center.
What was your first title? 
I worked at the circulation desk in Swem. I'm not even sure what my title was. We were using a card catalog at the time and there weren't computers yet, but we were beginning to get everything online for the first time. My current title is Technology Services Analyst.
What are some of your duties?
Prior to moving over to the School of Business I would help people figure out how to use their gadgets and accomplish technical tasks that they were confused about. I don't always know what to do, but always reassured folks that we would figure it out together. It puts them at ease and puts me at ease as well. I don't like to pretend that I am an expert at anything, but I am very good at figuring things out, like gadgets, software installations, etc. I would make them feel comfortable and let them know they're not the only one confused. My goal was always to never have to elevate the question to level two.
What has been the biggest technological advancement the university has made during your years in IT?
When I first started at the university we were completely offline and not in the computer world at all, so to be where we are now and where we were during COVID, with the whole campus working remotely, it's been a big change. 
Is there a project that stands out in your mind that was particularly interesting or fun to work on? Why?
When COVID came I felt like I really blossomed, which was odd because I am very introverted. Jack Farraj and I were tasked with working on the Software Distribution website together so that folks had a way to access all of the free software available to them without coming to the TSC. Jack designed the site and my role was to add content. We did everything remotely and it was a lot of long hours but it is a project I am very proud of. I got to tap into talents I hadn't used before in my role.
How do you stay current with technology?
I don't necessarily seek out new technology but I am a very hands-on person. When presented with it I dive right in. Sometimes I experiment and know I have to not be afraid to make a mistake. I learn quickly and when I make a mistake I fix it. So I dive in and learn as I go.
What do you like to do when you're not working? 
Spend time with my family, especially my grandchildren. I love to play music, go mountain biking with my grandson and color with my granddaughter.
Do you have a favorite memory from your time working in IT?
Honestly, COVID.  It was a time where we all came together (while being apart) to solve new problems. I loved my time working with Jack on the software site and found new confidence I didn't have before. I am confident in knowing my weaknesses and I know I don't know everything, and I am okay with other people knowing that too. 
What's unique about working in W&M IT?
Working in this department gives you the opportunity to build relationships with every member of the community; parents, students, faculty, staff, alumni. I have built relationships with people who I never see in person, but when you run into them they are so friendly and express their gratitude for the help you've given them. I don't think that's true for every department.