Introducing Technology Services
The Technology Services team in Miller Hall, now part of Information Technology, is committed to supporting the Mason School of Business faculty, staff and students. The team is conveniently located on the second floor of the building and works to support technology services and systems used at Mason.  They recently welcomed faculty and staff to the Technology Services suite, showcasing the services they offer and introducing the people that run and support them.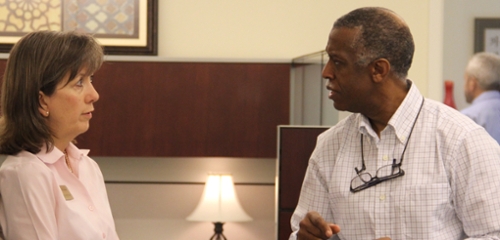 This three-day event was called "T3: Tech Tips & Talk" (T3 for short) and it gave the business faculty and staff members the distinct opportunity to interface with the Technology Services team. While refreshments and early bird prizes abounded throughout the affair, the main attraction was the insight of the technology staff on-hand to field.
"The Technology Services team is helping to provide technology solutions that will help faculty in their work and in their research," explains Karen Conner who spearheaded the event. Conner is the Associate Director for eLearning, and oversees much of the overlap between technology and academics.
View our Flickr album from the T3 event
A Big Debut  
T3 served as the Technology Services team's chance to put their knowledge of innovations in technology on display to those who stand to benefit from it.
"We are more than just a 'fix-it' shop that responds to calls for help when something breaks," says Conner.  "We have a great team of highly-skilled programmers and engineers and we want everyone to see the potential of our staff and services."
The Technology Services team works closely alongside the Mason School of Business faculty and staff to generate personalized solutions from a range of technology resources. T3 allowed for a forum in which a broad base of faculty and staff could learn about these resources, which—in many cases—require no additional cost. Although Conner expressed that the team cannot always guarantee no-cost solutions, she encouragingly adds, "It doesn't hurt to ask!"
Helpful Hands
T3 featured fourteen different tech topics that faculty and staff could learn more about, both through online tip sheets and personal instruction from members from Technology Services. These topics ranged from the use of well-known systems—such as Blackboard and Qualtrics—to newly introduced solutions, including Box and Poll Everywhere. The accompanying tip sheets provided brief descriptions of each technology solution, in addition to possible in-class use suggestions and potential cost breakdowns.
"Each team member was available to informally answer questions and chat one-on-one about technology and how we can help support them in their work," says Conner.
An Open Door Policy
All three days provided Technology Services with great opportunities to connect with Mason faculty and staff. Arguably more important than the initial conversations and brainstorming that occurred during the event is the resulting relationship between the faculty and staff and their technology support team.
"Technology is more important than ever," says Professor Hector Guerrero. "Classrooms and coursework are moving in a technology-driven direction and it's great to know the people that are supporting these efforts."  Close to retirement, Guerrero also notes that he could continue teaching from his planned retirement spot in Mexico with the aid of technology.
When asked about potential takeaways from the event, Conner was encouraging. "We hope that faculty and staff realize that the department is not only supportive, but it is innovative." Conner also emphasizes that the team is committed to working with faculty and staff to help leverage technology in the classroom.  In closing, Karen Conner remarks, "We will offer future T3 events, but if faculty or staff members have questions about technology, we invite them to visit us in our space anytime."