W&M IT Introduces New Governance Structure
W&M IT is introducing a new governance structure, focused on diversity and efficiency. Spearheaded by new Chief Information Officer, Ed Aractingi, who joined W&M IT in June of 2020, the new structure will provide strategic direction, align with our university values, and formalize IT's integration in the larger campus community. He intends to weave perspectives from all corners of the university into IT decision-making. In doing so, it will provide a process for efficiently prioritizing projects that also encourages innovative thinking and problem solving. Aractingi describes the new governance structure as "a way to organize a diverse group of committed members of the community."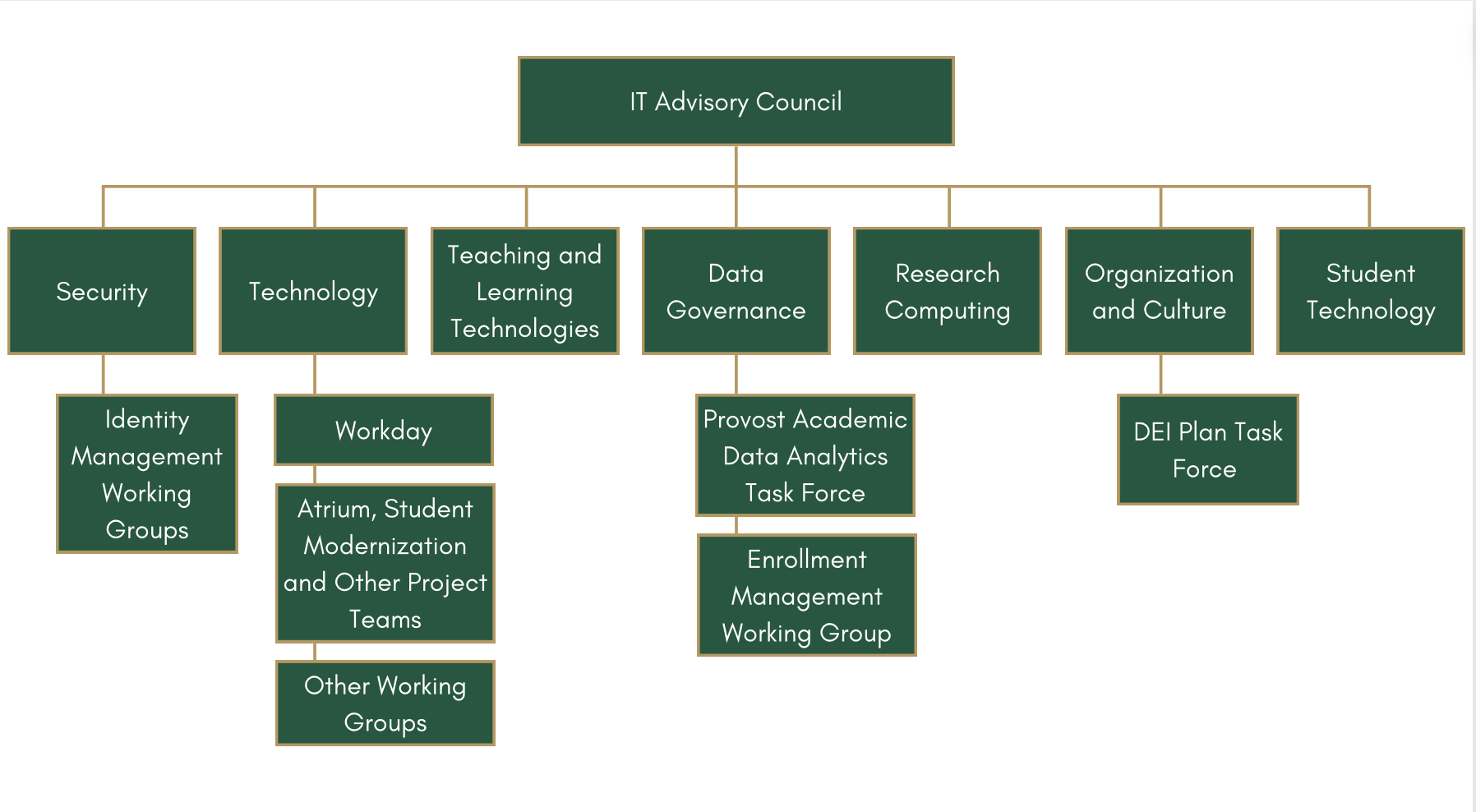 Heading up the new structure is the Information Technology Advisory Council (ITAC) led by Provost Peggy Agouris and CIO Ed Aractingi. This small group will be the top advisory council and will guide strategic priorities for the department and set the strategic direction for the governance committees. ITAC will also be involved in prioritizing large-scale projects with a hefty financial/time commitment and overseeing annual updates from each committee. 
There are seven committees underneath ITAC, each handling a specific function/area of W&M IT (Security, Technology, Teaching & Learning Technologies, Data Governance, Research Computing, Organization & Culture, and Student Technology). Some of these groups have additional subdivisions of task forces and working groups.
The new governance structure serves as a way to bring forth various points of view to IT. Each group has two co-chairs, with one position held by an IT staff member and the other held by a member of the campus community. Additionally, committee members include faculty, staff (both from within and outside IT), and students. "A model based on diverse perspectives from throughout the W&M community helps us to think outside the box and have innovative approaches," says Aractingi. "It is key for successful decision making."
For the upcoming semester, the goal of the new groups is to get acquainted and set a direction for the upcoming year. The committees will work to coordinate their charges and plans for the next academic year. One benefit of this structure is that it will allow the committees independence and flexibility. Deputy Chief Information Officer Bernadette Kenney says of the new governance structure that it is an "opportunity to be more transparent, and to show how IT does its work."  
A notable new group is the Organization & Culture Advisory Committee (OCAC). Organizational Change Management Strategist Melissa Palacios is co-chair of the committee along with Sharron Gatling of Human Resources. Palacios says that the goal of the committee "is to help all users thrive in William & Mary's technological environment, with particular attention to efforts and opportunities regarding diversity, inclusion, equity, accessibility, and affordability."  
OCAC will also have a task force focusing on diversity, equity, and inclusion (DEI) efforts within the IT department. Aractingi noted that the DEI Task Force will help IT "focus on how W&M IT can use technology to help build an inclusive environment for the W&M community." Additionally, OCAC (including the DEI Task Force) will work with the other governance committees to ensure that DEI efforts remain front-of-mind in IT's goals and priorities.
In the coming academic year, each committee will be able to work on their own relevant issues, goals, and projects. They will occasionally come together, along with ITAC, to share accomplishments and receive feedback. Collectively, they will be able to problem-solve in a manner that promotes flexibility, efficiency, and innovation. With the introduction of this new governance structure, W&M IT is looking forward to a productive and innovative year. Kenney says, "The excitement about this new governance structure is the potential for new technology-led success stories at William & Mary."