Getting Connected - Move-In 2019
If you were on campus during this year's Freshmen Move-In-In on August 23, you may have noticed a lot of bright blue shirts roaming the residence halls.  That's because William & Mary Information Technology had over 50 workers, both staff and student technicians, stationed around campus helping with freshmen Move-In. And yes, they were proudly sporting the blue shirts. 
So what prompted this IT outreach? Well, many reasons, but the primary reason was eduroam. Eduroam is an exciting new wireless internet service for William & Mary's faculty, staff, and students.  It provides access to a secure wireless network on the W&M campus and at thousands of other participating eduroam institutions, primarily universities. Once eduroam is installed on your computer or device, you can travel the world and enjoy secure wireless internet service, without the hassle of using guest networks.
However, installing eduroam can be a little tricky.  To ensure security, a certificate or mobile app (depending on the device) has to be downloaded through a service called SecureW2.  This process can be a little confusing. But the good news is, once installed, you don't have to worry about logging in anymore.  Your device will connect automatically.  In addition, once connected at W&M you can use eduroam at all other eduroam supporting institutions.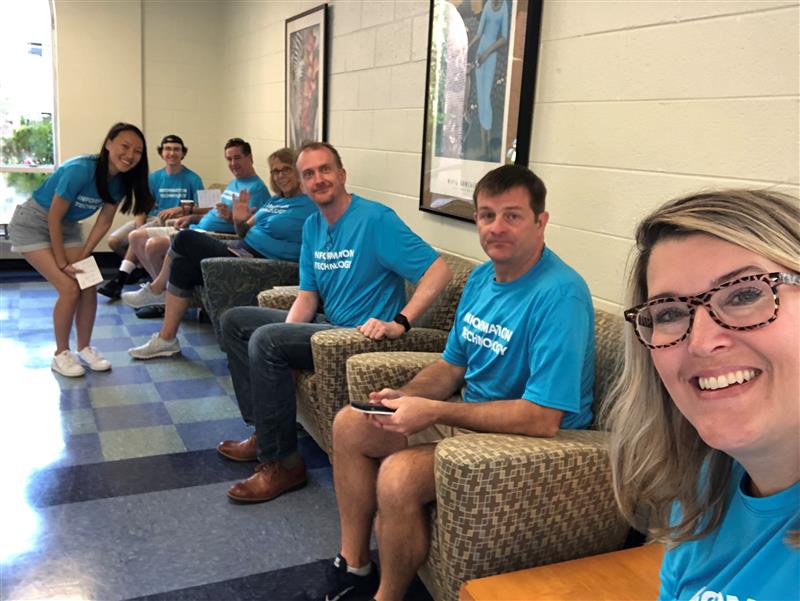 W&M IT knew that connecting to eduroam might be a daunting task, especially for those that are brand new to William & Mary. They wanted to make sure that everyone could access the internet from the get-go, and they knew that it was easier to do the installations in-person, when students have their devices in-hand.  So IT decided it was best to meet students where they are on Move-In day - in their residence halls.
W&M IT worked throughout the summer to organize a Move-In day outreach campaign. Over 50 people from all different areas within IT (staff and students) volunteered to go into the residence halls and help incoming freshmen get set-up on eduroam.  The volunteers received special training on eduroam set-up and troubleshooting, instruction cards to reference, and a bright blue shirt that said "Ask Me about Eduroam" on the back. Volunteers were organized into teams and assigned to certain freshman residence halls. 
To make it fun, there was a friendly competition between the teams to get the largest percentage of people connected to the eduroam network. Shout out to Yates and GGV for tying with 56.8% of the freshmen connected by noon on Move-In day!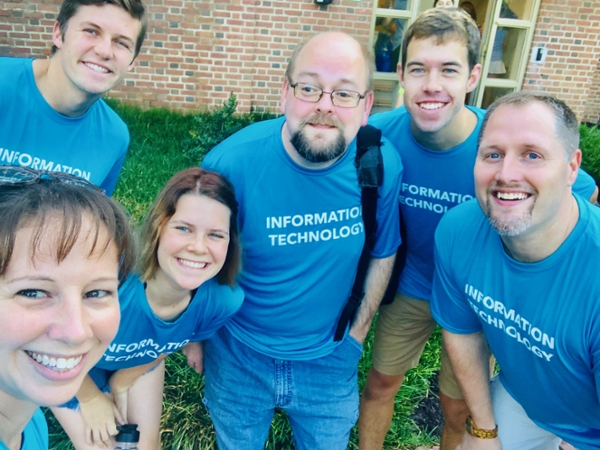 W&M IT's Senior Network Engineer Norman Elton is the mastermind behind eduroam. "Eduroam has actually been functional at W&M since last Christmas, but to make it easier for students, the switchover was planned for the start of a new school year," he says. "We decided that freshman halls would only use eduroam, so that new students are connected to it from Day 1.  We left the legacy network up in the upper class residence halls and academic buildings and will be working throughout the Fall semester to retire it building by building." 
Elton also mentioned a fun fact about eduroam's start at William & Mary.  By happenstance, President Katherine Rowe was actually the first person to login into W&M's eduroam! When President Rowe first started at W&M, she was visiting another university and saw that they had eduroam available.  She was familiar with eduroam from her previous institution and decided to try to log on with her W&M credentials. And it worked! Even though IT was still in the building/testing phase of the eduroam network on the W&M campus, it worked for her from the other university.  "Imagine my surprise when President Rowe's name popped-up on our new network," Elton said. "She was the first ever W&M eduroam user. Quite an honor!"
Technology Support Specialist Rodney Franks played a key role in organizing the IT Move-In-In Day effort.  He worked tirelessly over the summer to make Move-In day as smooth as possible. "IT was there to help freshmen get set-up and make sure that they [the new students] were aware of the resources that were being offered," says Franks when discussing  IT's goals regarding Move-In day. Franks coordinated the IT effort with Residence Life, organized the teams of IT volunteers, led eduroam training sessions, and operated as the "central command" during Move-In. 
Franks said that one of the highlights of the experience was being able to work with Residence Life, as well as the Orientation Aides through the office of First Year Experience. He previously worked in Residence Life and enjoyed being back in that environment.  He was invited to give an information session about eduroam at the Orientation Aide training and helped the OAs themselves get connected to the network. "It's exciting to be a part of the Move-In experience again. Now working with IT, I am coming at it from a different perspective this time."
Communications also played a big role.  "We wanted to ensure that students were aware of eduroam was and how to connect to it," says IT Communications Manager Melissa Palacios.  "We tried to communicate through every available channel." Communication planning started in the spring and preparation lasted throughout the summer.  Messages about eduroam went out in everything from the Tribe Guide, to posters in residence halls, digital signage, listservs, table tents in dining halls, as well as on social media. "The goal was to not only make all students aware of wireless eduroam network, but also reinforce the security and travel benefits of using eduroam."
A simple postcard with instructions for how to connect to eduroam ended-up being one of the most successful communication pieces.  The cards had eduroam connection instructions for each device type (iOS, Android, Mac, Windows) and were passed-out in the residence halls during Move-In. "The little postcards were distributed like candy during Move-In-In weekend.  Both IT volunteers and new students alike found the instruction cards to be helpful," says Palacios. "They were also a conversation starter. During Move-In, IT volunteers could hold one up and ask a new student 'Have you connected to eduroam yet?'"
"And It wasn't just eduroam!" interjects IT Business Systems Analyst Mike Dyer. "We were asked to hook-up all sorts of things. Students asked for help connecting their X-Boxes, Alexa devices, and wireless printers.  We helped them with as much as we could."
After the hectic day, W&M IT received a lot of positive feedback about their presence in the freshman halls.  Franks, who works in the Technology Support Center, has since received several calls that have mentioned the "nice IT workers" who helped them to connect to eduroam during Move-In. Interim CIO Bernadette Kenney said that President Rowe also complimented IT for their presence on Move-In Day.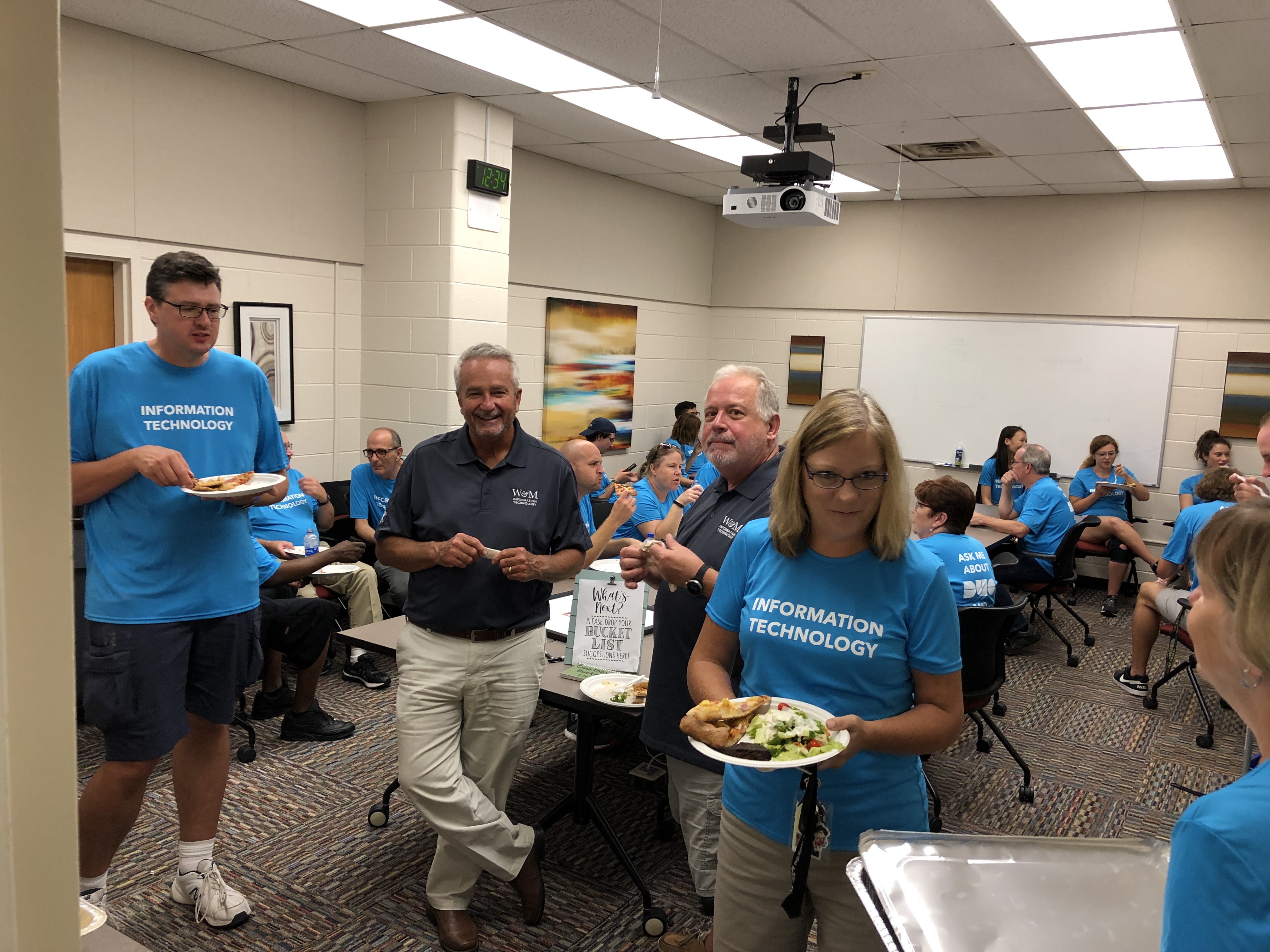 The eduroam connection stats also point to success.  Even after IT's major outreach efforts concluded, the eduroam connection rates among students continue to rise. "This shows the value students see in eduroam. They are helping each other get connected without IT prodding them to do so," Elton explains.  
This has been a great example of IT teamwork.  Key people from Networking, Support, and Communications worked together to plan and coordinate the Move-In-In effort.   Then volunteers from all areas of the IT department helped bring it to life. Overall, the 2019 Move-In Day was quite a success from the IT perspective and it could very possibly be replicated in future years.