DYK Series: Reggie Williams
William & Mary Information Technology is comprised of intelligent and hardworking individuals who exemplify the university's core values of belonging and respect. Our "Did You Know?" series gives us the opportunity to shine a spotlight on members of our team and introduce others to their work, as well as the unique things that make them tick.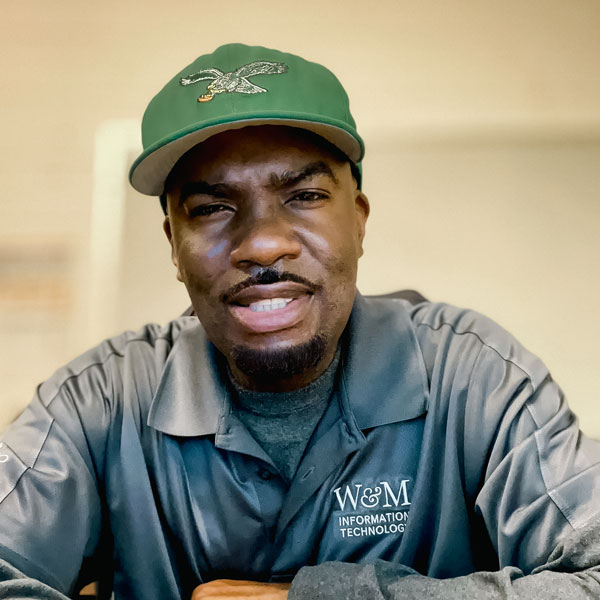 Reggie Williams is an infrastructure field engineer on the technology team in IT. He came to W&M in 2018 in a classroom support role before landing a position working with the support staff in the Technology Support Center. In 2021, his current position opened and he jumped at the opportunity.  
Before coming to W&M, Reggie was an Airforce Firefighter. In his current role, he makes sure everyone on campus is able to connect their devices to the network. It's safe to say that without WiFi, life on campus would come to a screeching halt. Thankfully we have Reggie to keep us all connected!  
Before getting into the field of IT, Reggie was his family's go-to tech person. He was always helping someone fix their computer, so he figured it would be a good idea to get paid for it. Armed with a bachelor's degree in network security, Reggie came to W&M with his sights set on the role he holds today. 
Reggie says that working in IT is unique because he considers the team to be like one big family. When he was working in the TSC he only interacted with his coworkers on the second floor most of the time, but the pandemic has enabled him to collaborate with other members of the team since it is so easy to connect virtually.  
Did you know? 
In his spare time, Reggie is an audio mixing engineer as well as a videographer. An audio mixing engineer combines the different sonic elements of a recorded piece of music into a final version and balances the distinct parts to achieve a desired effect. During the university's "Planned Pause" in 2021, Reggie shared his gifts with the IT team by producing a video showing the process of producing a record from start to finish. 
A former baseball player, Reggie coaches his son's baseball team and produces videos for the Denbigh Youth Baseball League. He loves spending time with his family, and says he spends a lot of time at the baseball field, whether it's for a game or practice. He is also a huge fan of the Philadelphia Eagles, Boston Celtics and Houston Astros.