The Coolest Things I've Seen This Year
Nine months, six news stories, and countless Facebook posts and tweets later, I am finishing my time as the W&M IT Communications Intern. You may think that it takes a breadth of IT knowledge about systems, computers, and coding to be able to write about IT, but in fact you would be wrong.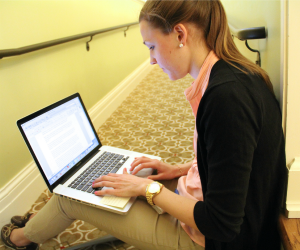 I'll fill you in on my secret: When I started, I knew almost nothing about technology.
As a Government and English double major, my tech skills include using my laptop to type my assignments and occasionally posting a photo to Instagram from my iPhone. And because of my low-tech skills, I am constantly in awe of the things that go on in IT. Things that are commonplace to the staff here are incredibly impressive to me. I've had ask "can you explain that to me again?" or "what exactly does that do?" more times than I can count this year. Each time that happens, I realize I'm learning something new from the people here, and leaving W&M IT just a little bit smarter than I came to it.
Here are some highlights of the coolest things I've seen this year:
3-D Printing
I'm pretty sure this is something that everyone here thinks is neat. I've seen a Roman bust, a model elephant, and more come off of a 3-D printer using a computer even or an iPhone scanner. It's fun to play around with, but it has some real classroom applications too.
MOOCs
If there's one thing I've learned from being on the W&M IT Twitter feed this year, it's that Massive Open Online Courses (MOOCs) are a hot topic in educational technology. And W&M is creating one with Colonial Williamsburg. Writing a news story about IT's involvement in creating the MOOC gave me an awesome opportunity to learn more about MOOCs and talk to some of the people who are working on the project.
Teach & Tech Expo
Getting to attend and report on the Teach & Tech Expo in April let me see a variety of things that the W&M community is doing to use technology in the classroom. I got to try out videoconferencing technology and even got to act as an avatar in a virtual classroom. Being at Teach & Tech made me feel lucky to attend a school where the faculty and staff are so committed to trying new things to make the classroom experience better than ever.
PAC Lab Seat Finder
A project I was able to see from start to (almost) finish is a Seat Finder for the Computer Labs on campus. This tool will soon help students identify open seats in labs so that they don't waste time walking to labs that are already full. I hope this will make students' lives just a little bit easier during those busy exam times or even on a day-to-day basis.
Mobile App Project Team
I have been fortunate enough to serve as a student representative on a committee developing W&M's first-ever mobile app. This was a great experience to see something that students will hopefully use every day on campus, and see it from the beginning conceptual stages to a real app to work on. I will graduate before the app goes live, but I can't wait to download the final version when it is released. It will help me keep up with W&M even though I'm starting a new chapter in my life!
But my time in IT wasn't just seeing cool projects—I've been able to make a real contribution, and work with awesome people who truly care about making everyone's experience at W&M the best that it can be.  Plus, my technology skills now include way more than just formatting papers and posting photos. I'm sad to leave W&M IT, but I've learned a lot since I got here.  And I'm excited that I have a job lined-up after graduation where I get to use my newfound skills.  
Want to experience these cool things like I did?  Work for IT as a student employee or follow W&M IT on Facebook and Twitter to see the latest happenings.