W&M IT Punches a New Ticket
William & Mary Athletics has launched a new integrated ticketing management system for the 2014 Fall Season! Tribe Athletics will improve ticket accessibility for students, alumni and Tribe supporters, and coordinate with the Tribe Club to provide more opportunities to engage with Athletics. Nearly a year in the works, the new management system will provide ticketing for all events on campus overseen by Tribe Athletics.
W&M IT has played an integral role in the development of the new management system for Tribe supporters to athletic events. The new system is a two-fold approach that offers more flexibility in ticketing and improves accessibility for Tribe Athletics supporters. "We needed to provide the necessary technical support to better accommodate the Tribe Community as they cheer on our student-athletes," says Corinne Picataggi, the project's technical manager.
Ticket sales will be monitored through a database, allowing real time updating of will call tickets. Students will swipe their Tribe Card for access to sporting events, which will aid with ticketing information for upcoming campus events. Venue pricing options, season ticket renewals, and block seating for large groups will be accessible online with the new ticketing system.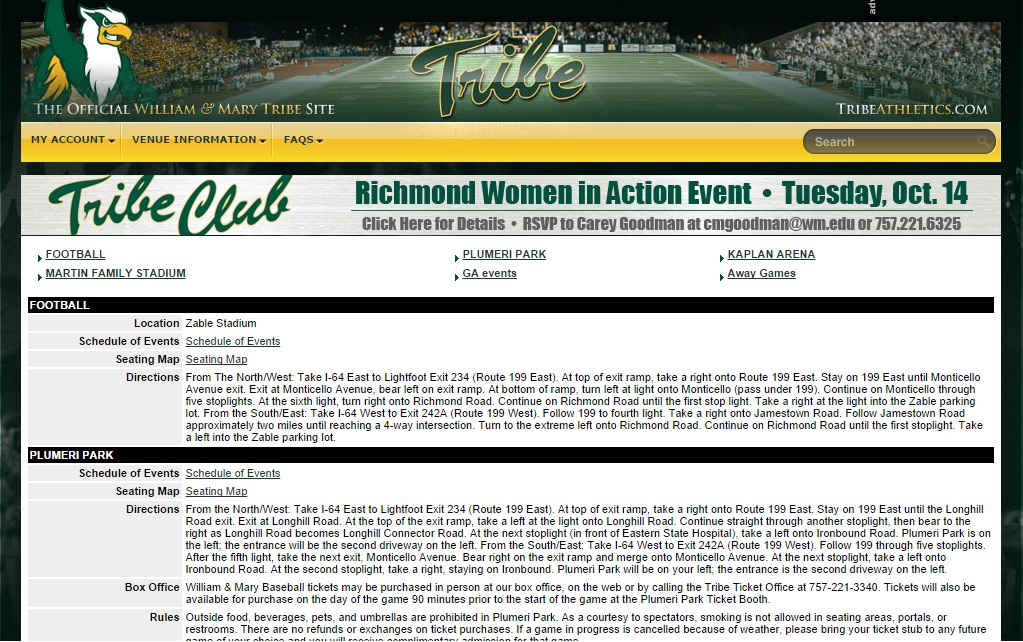 The IT Department has been working behind the scenes for several months updating networks around our sports venues and ensuring that the new management system will operate smoothly on game day. After consulting with larger universities on how to best facilitate entry to sporting events, the network team has reorganized the wireless networks at Zable Stadium and William & Mary Hall. This included managing access points and testing network connections to ensure ticket scans will operate smoothly. 
The second part of the new system will provide more opportunities for the Tribe community to support Athletics. A shopping cart approach will be available online where fans can find ticketing information, merchandise and show their Tribe Pride by supporting the Athletics program. Athletics has teamed up with the Tribe Club to offer additional benefits at sporting events by membership levels. 

"We wanted to personalize opportunities for the Tribe community to support Athletics," explains Picataggi. As Tribe athletics is supported entirely by the Tribe community, the new system will provide integrated opportunities to cheer on our student athletes. 
Whether you're around for a football weekend or planning an event for a large group, we encourage you to check out the new ticketing system for your next event. We hope to see you out there soon showing your Tribe Pride!