Admission Applications Go Digital
W&M IT and the Undergraduate Admission Office are helping the Class of 2018 make history, and the applicants don't even know it.
High school seniors applying to William & Mary this year will be the first W&M applicants in more than 300 years to have their applications automatically loaded into Banner and read digitally by the admission committee. With a record number of undergraduate applications coming in this year, the timing was just right for introducing the new process. A collaborative effort between IT and the Undergraduate Admission staff proved to be the key to a successful project.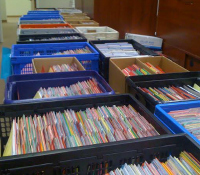 While it may not be obvious to applicants when submitting the Common Application online, W&M Admission officers had been previously printing out applications in hard copy to read, comprising almost 100,000 pages of paper each year. Now, all applications are automatically loaded into Banner, allowing the Admission readers to view the applications online. Student files will exist digitally, allowing their information to be transferred and shared between departments during the admission process and once the student is enrolled. Each application file used to contain 22 pieces of paper—that number has been reduced to one.
Henry Broaddus, Dean of Admission and Associate Provost for Enrollment, says that the reason for this new system is not to necessarily speed the process up, but to make it work better. "The purpose for imaging was driven by the opportunity to provide superior service to applicants: to create improvements to our process that would equip our deans staff with information in a better format that is going to help them to make better decisions, to get more of that information sooner, and to store it all in one place," said Broaddus.
Prospective students shouldn't worry—each application will still be reviewed by at least two readers. However, admission staff members can now more easily consult on applications, since the paper files do not have to be physically passed back and forth. Betsy Dolan '84, Associate Dean and Director of Admission Information Systems, remembers the excitement two readers had when they first realized that they could simultaneously look at a single application in remote locations. Instead of having to describe a feature of the application, both readers could pull up the file and review it at the same time.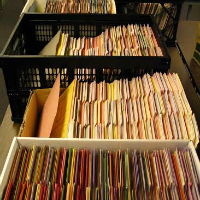 Dolan led the implementation of the system in the Undergraduate Admission Office over the last six months, with the support of IT staff, including David Trott, IT Reporting and Business Analyst, and Jim Supplee, Windows Engineering Manager. Extensive IT preparation for the implementation included training with vendor consultants on how to use document imaging; building a test environment with servers, databases, and an application layer to load in test data and facilitate training; and rearranging nightly jobs and processes to accommodate new data coming in electronically, including applicant test scores.
Trott said that the process was easy to get up and running once the implementation process began. With help from the Windows team, he was able to support the Admission staff through any problems or issues, including a major change in the Common Application that posed a challenge to the automated system. Trott continues to be involved with the effort now, resolving technical issues that arise and monitoring the system daily for loading errors.
Document imaging will include many offices at W&M over time, but the implementation team focused on the Undergraduate Admission Office first. The Registrar's Office is the next to be involved, and already received Spring transfer students' files electronically.
To date, over 71,000 documents have been loaded into Banner, with 85% happening in an automated manner. That many documents loaded means that 160,000 sheets of paper were spared, or four to five trees saved. And document imaging isn't just good for the environment and the efficiency of Admission efforts—it also has significant security benefits. Since no paper applications are traveling with readers, there is an extra layer of security to students' information, and the records are protected against the threat of a natural disaster.
Both Broaddus and Dolan say that the system worked well in the Early Decision admission period, but the real test will come in 2014, when ten times as many applications are loaded into Banner in regular decision admission. With the January 1 deadline passed, the time has come for the stress test, but if the past is an indication of what is to come, it seems that the IT-Admission team is up for the challenge.