A shared alma mater: Kente ceremony to reunite high school principal, student
When Leslie Walden '15 went to an event honoring William & Mary's first African-American residential students, he had no idea that he'd see a familiar face among those being recognized: his high school principal, Lynn Briley '71.
"It was shocking," Walden said. "I see her in a completely different light now."
On Friday, the two will reunite once again at William & Mary, this time for the Donning of the Kente ceremony, which celebrates the accomplishments of students of color. This year, 140 students will participate in the event, sponsored by the Hulon Willis Alumni Association and Lemon Project.
Walden asked Briley to be one of two people to "don" him – place an embroidered stole on his shoulders – during the ceremony. The choice seemed a logical one to Walden, as Briley was the person who recommended the university to him.
"In high school, I was applying for universities, and my magnet facilitator – she's donning me, as well – she was asking me what schools I was going to apply to," Walden said.
When Walden mentioned William & Mary, the facilitator advised he talk to Briley, then-principal of I.C. Norcom High School in Portsmouth, Virginia. Briley knew that William & Mary was looking to increase the diversity of its student body, and she had been recommending it to some of the seniors in the school, pointing out its reputation for having an excellent liberal arts program and its cost compared to other state schools, she said.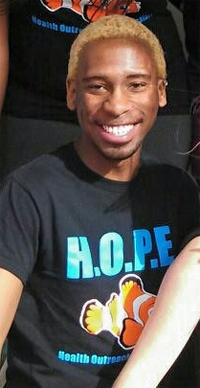 Walden had been close to Briley since his freshman year of high school, seeing her often through events hosted by the magnet program.
"When you meet her, you'll think she's really stern, but when you start talking to her, she's actually really sweet and really nice," Walden said. "She has a great smile and is really welcoming. As a principal, you're supposed to see her as this tough person, but as soon as you speak with her one-on-one, it's completely different."
One of those one-on-one conversations occurred the day after Walden talked to his magnet program facilitator about colleges. Briley sat down next to Walden as he was working on a computer and began talking to him about William & Mary.
"She didn't tell me much about it, but she's one of those people who, she kind of understood the person I was and she's just like, 'You're going to go to William & Mary,'" he said.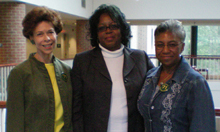 After high school, Walden didn't see his high school principal again until that fall 2011 ceremony in which Briley, Karen Ely '71 and Janet Brown Strafer '71 were honored for being the university's first female African-American undergraduates and the first African-American students to live on campus.
Since graduating from William & Mary with a Bachelor of Arts in English, Briley has had a long and successful career in education, most recently serving as principal Churchland Middle School from 2001 to 2005 and I.C. Norcom High School from 2005 to 2012. She currently serves as an adjunct professor of public speaking at Tidewater Community College.
Throughout the years, Briley has returned on occasion to her alma mater, participating in some Homecoming events, helping with the Hulon Willis Association and taking classes in the School of Education toward a doctorate – a pursuit that was put on hold as she cared for a terminally ill parent, she said.
As Walden pursued his own degree in mathematics at the university, Briley quietly kept tabs on him – as she has done for a few of her other students – "to see how well he was doing, to see if he was maintaining his studies and doing well, because I know it can be kind of stressful," she said.
Walden said that there were ups and downs during his time at William & Mary, but, ultimately, he is glad he stayed at the university. In addition to his academic pursuits, he also served as a member of the Health Outreach Peer Educators (HOPE), Lambda Alliance and the Mosaic House, representing it on the Hall Council.
Although Walden, who will pursue graduate studies in creative writing after graduation, wasn't initially interested in participating in William & Mary's Commencement ceremony, he said that the Donning of the Kente appealed to him because it was something that all of his family members could attend.
"And I could actually choose the person who was donning me, so that was pretty cool," he said.
When Briley received a text message from Walden, asking her to be one of those people, she was delighted.
"I just want to witness his achievement since I recommended the College to him," she said. "I'm glad that he has completed the requirements for graduation, and I just want to witness the achievement."