'Breaking Ground' opens this week, features 110 contemporary artists
In a sense, "Breaking Ground: Contemporary Photography at the College of William & Mary," a new show opening this week at William & Mary's Andrews Hall, represents both a fulfillment and a wish.
The show, which opens Wednesday, Oct. 15, and runs through Friday, Oct. 31, will feature the work of 110 photographers from around the world, including prints, video and object-based photographic works, such as handmade books and sculptural pieces.
As the show runs concurrently with Homecoming, the department has scheduled both an opening reception (4 to 7 p.m. on Friday, Oct. 17) and a special alumni reception (10 a.m. to noon on Saturday, Oct. 18).
"The theme behind the show is really intended to be as broad as possible, to show the vast breadth of contemporary photography," said Eliot Dudik, visiting assistant professor of photography and Andrews Gallery coordinator.
John Simon Guggenheim Memorial fellows represented in the show include Lori Nix and Brian Ulrich, among others. But Dudik did not want to land only big-name photographers. He also included beginning artists and talented former students.
"The reason for this is to show our students here at William & Mary that we are poised to help them participate in this conversation about contemporary photography. They just need the space to get started," Dudik said.
The show represents a fulfillment by celebrating Dudik's arrival and a renewed effort to develop a photography program. William & Mary has never offered a formal photography program, although University Archivist Kim Sims found that a course, "The Art of Photography," was offered fairly consistently between 1949 and 1963.
The Art & Art History Department – and Dudik in particular – is working to develop a program this year, during the 175th anniversary of the invention of photography.
And his ability to attract more than 100 photographers for the show hints that contemporary photographers welcome the fledgling program.
"A large, digital, printable file is one of the things an artist has to keep closest to them because it's their livelihood," he said. "It's quite a lot to ask an artist to send you a very large, printable file … So the artists are entrusting me that I will treat it with respect, keep it organized and do with it what I say I'm going to do."
Dudik has committed to destroying the prints after the show by burning them in a bonfire. "These prints can't be floating around in the world because they are not part of the artists' editions and limiting their print releases is partially what brings value to their prints," he explained.
But it doesn't end there. He plans to recover some of the ashes and immortalize the show by creating at least one piece of artwork from them.
"The upcoming show is beyond exciting," Art & Art History Chair Elizabeth Mead said. "Something of this scale is just completely unprecedented for our department, and maybe even for the College."
Dudik likens the show to installation artist Alfredo Jaar's 2000 project in the Swedish paper mill town of Skoghall, where Jaar built a museum out of paper, filled it with local artists and razed it 24 hours later to incite the people of Skoghall to prioritize a place for art in their community. Seven years later, they had raised the funds for a gallery.
"I see a connection between that project and what we're doing here with the 'Breaking Ground' show," he said. "It's going to be an enormous show, where we exhibit some really wonderful photography from some of the most celebrated artists in the world. It will be up for a short period of time, only about two weeks, and then it will be taken down and destroyed. Hopefully we can get folks really excited about photography, show them where it is today in a contemporary sense, and then take it away in order to build anticipation for the new photography program here."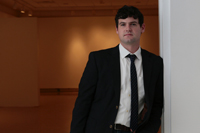 Dudik came to William & Mary from the University of South Carolina in August and has been working since then to lay the groundwork for the program. The department has earmarked space in Andrews for both a traditional darkroom as well as space for digital photography facilities.
Even without facilities, he is hoping to teach a class jointly in fall 2015 with Art History Professor Charles Palermo. Palermo would teach the history while Dudik would teach about the materials used and the objects created at the time.
"I was certainly surprised to hear that William & Mary, being the second oldest college in the country, never had a photography program," he said. "Photography is an incredibly important part of contemporary art right now. It is so integrated into just about everything we do today in any discipline. There's so much being done with photography today, in an interdisciplinary art sense."
Mead said that developing a photography program has been a departmental priority for years.
"Photography combines imaginative observation, compositional knowledge, and process-oriented technical mastery in ways that complement other aspects of our program," she said. "The particular curriculum that Eliot is designing includes innovative approaches, such as a book making component, that bridges two-dimensional and three-dimensional thinking in a unique and exciting way."