It's in the cards: Schoenberger and Serghi to play Carnegie Hall
{{youtube:medium|AP2rp3Eh1HY}}
Nancy Schoenberger and Sophia Serghi aren't so joined at the creative hip that they finish each other's sentences. They just compose them together.
"We have this uncanny ability to think alike," said Schoenberger, a professor of English at William & Mary who also has directed the College's Creative Writing Program. "I don't know where that comes from. We did a collaboration several years go called 'Full Moon Haiku' in which I wrote a number of Haiku (poems) based on the full moons and their different Indian names and Sophia came up with a beautiful orchestral piece for soprano."
Schoenberger and Serghi, the Robert F. and Sarah M. Boyd Distinguished Associate Professor of Music, are taking their act to New York on Jan. 30 for a concert at Carnegie Hall. Entitled "The Fool and the World: Nine Meditations on the Major Arcana," it will feature original music by Serghi and poetic interpretations by Schoenberger inspired by nine of the 22 Major Arcana tarot cards.
The Ardelia Trio will open the evening by performing Serghi's "Complete Works for Piano Trio."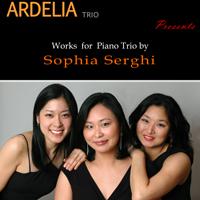 Tickets for the concert, which will be held in Weill Hall, may be purchased through
Carnegie Hall
.
It's the second year in a row that Serghi has performed at Carnegie Hall. Last year, the Flux String Quartet performed her exploration of Byzantine and avant garde music.
Both are distinguished professionals in their fields. Schoenberger is renowned as the co-author most recently of "Furious Love: Elizabeth Taylor, Richard Burton and the Marriage of the Century," and "Hollywood Kryptonite: The Bulldog, the Lady, and the Death of Superman," among other non-fiction works. She is currently working on a book about John Ford, the great director known for his Westerns, and how he shaped and helped create the iconographic figure of actor John Wayne.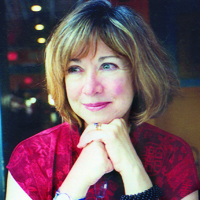 She also won the 1997 New York Poetry Prize from New York University Press for her book of poetry "Long Like a River," as well as The 1987 Devins Award from the University of Missouri Press for her book, "Girl on a White Porch."
Many ensembles and orchestras have performed Serghi's music, including the American Composers Orchestra, the Aurelia Saxophone Quartet, the Chilingirian String Quartet, the Cyprus State Orchestra, Duo Palmos, Ensemble Sizzle, and the Greek Contemporary Music Ensemble. The Haifa Symphony Orchestra, The Nash Ensemble, the Orchestra of Colors, Speculum Musicae, and Trio Athene have also carried her writing to the stage.
The work on this performance began prior to the fall semester when Schoenberger finished writing poems on the Major Arcana tarot cards and Liz Gill Nielson completed her illustrations. The combination was brought to Serghi, who then began composing her part of the duets.
"When we finally came together at the beginning of the fall semester, it ended up being a wonderful collaboration," Serghi recalled. "We were on the same page right from the very beginning."
Added Schoenberger: "We're drawn to a lot of the same images . . . We both had an interest in tarot, so we like visually stimulating, highly romantic, highly lyrical . . ."
Serghi breaks in: "Spiritual . . ."
"Yes," Schoenberger agrees, "spiritual works."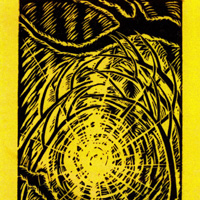 The professors have incorporated an interactive component into the Carnegie concert. Each audience member will receive a program with Liz Gill Nielson's illustrations of nine tarot cards. Each program also will contain a larger illustration of one card.
"So we will perform each in its entirety, but when, for example, we perform 'The Hermit,' anyone in the audience who has 'The Hermit' card has to pay a little extra attention to see how the music and lyric actually speak to them," Serghi explained. "In that sense, it's their own personal reading, and we have what we're calling 'silent audience interaction.' "
It's "The Hermit" that Serghi most identifies with.
"It's the card that speaks to me whenever I compose," she said. "I feel like I am a hermit in a sense, like I'm on an inner solitary journey, and my only companions are the sound visions I have. It's very simple. You get the feeling that it's a solitary person who is walking on a very narrow path. The world is around them but they are very much into themselves and their thoughts and into their spiritual well being, trying to understand what the next step may be.
Schoenberger became interested in tarot, in part, because of its roots in Medieval Christianity. For this performance, she has supplemented her original verse with snippets from Shakespeare's "Hamlet" and "King Lear," as well as Bob Dylan's lyrics and the medieval poem "Tom O'Bedlam."
"Like a magpie, I've taken lines from other sources to add to my response to the visual images of the tarot deck," she explained. "Basically, the tarot is about The Fool's journey to enlightenment, and each card is a different step along the way."
For her, the Carnegie performance represents a welcome return to her poetic roots.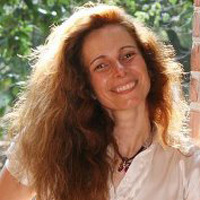 "I began as a poet, came to William & Mary as writer-in-residence in poetry," she explains. "Over the years I became kind of disenchanted with the state of contemporary poetry. A lot of the work that was being done was very similar – work-shopped work -- and I felt that poets were only writing for other poets. I found that frustrating. I wanted a wider audience for my words. So where did I go? Non-fiction.
"But I'm not giving up on poetry. It's my first love. The idea of collaborating, writing dramatically, writing lyrically, has given me a whole new sense of what poetry can do – and I have to thank Sophia for giving me that new way of looking at things."