Faculty expert: Coibion co-authors article, forecasts Fed's gradual exit from loose monetary policy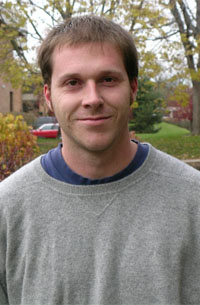 After what is considered by many economists to be one of the worst financial crisis situations since the Great Depression, W&M Assistant Professor of Economics Olivier Coibion is shedding some light on the next big question: how will the Federal Reserve exit from its loose monetary policy decisions on interest rates and what will be the effects on the economy?
Forecasting future economic conditions accurately requires understanding in what direction and how rapidly policy is likely to adjust in the future, says Coibion, co-author of "How inertial is monetary policy? Implications for the Fed's exit strategy?" published on Jan. 28 in VoxEU.org, a leading international economic research site.
"The speed of the exit strategy is likely to hinge in part on the amount of inertia inherent in U.S. monetary policymaking process, i.e. the speed at which policy adjusts to incoming information," he said. 
A specialist in macroeconomics and international economics, Coibion investigates why the Federal Reserve has historically changed interest rates in a much more gradual manner than might be expected, based on changes in the underlying economic conditions. 
"Policymakers prefer to move interest rates only gradually toward their desired levels to minimize the volatility of interest rate and asset prices more generally," he said.  Economists refer to this as policy inertia. 
For that reason, Coibion says that consumers should not expect rapid policy changes in the near future.  That would be a plus for the housing market, says Coibion, since a longer period of lower interest rates is likely to provide additional support, thereby quickening its recovery, he said. 
"Policy inertia will also affect students ," noted Coibion.  "With lower student loan rates, it will be cheaper for them to pursue their education."
Overall, Coibion stresses that the Fed's exit strategy will be a gradual process, which will in turn trigger market interest rates to gradually rise.
"Monetary policy changes take time to affect the economy," said Coibion.  "Policy inertia sheds light on how rapidly the Fed's exit strategy from its current period of nontraditional tools is likely to proceed."