All W&M undergraduate students share the College Curriculum experience, a set of specially designed courses that connect and integrate knowledge across the academic disciplines.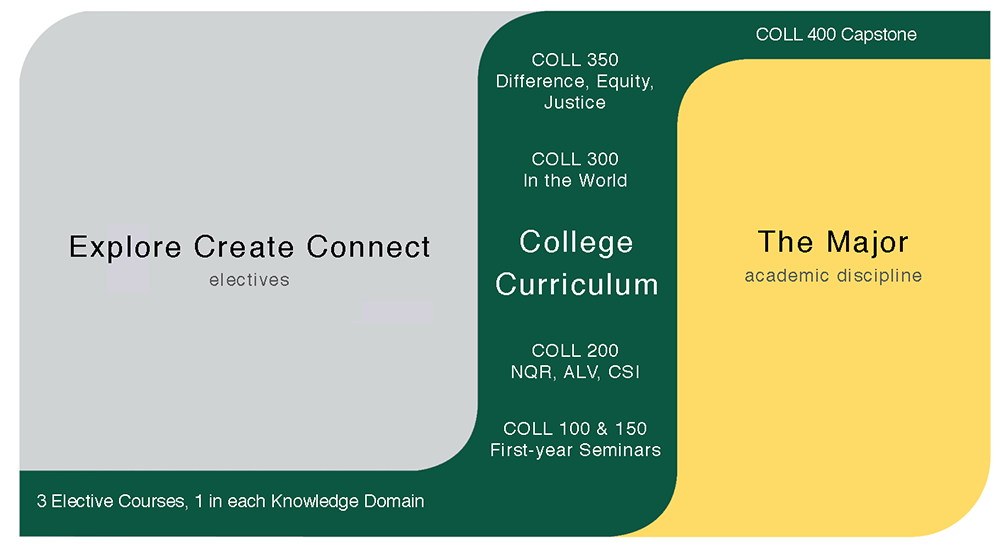 Your first-year experience includes two types of courses that lay the groundwork for a coherent liberal arts education: COLL 150, with deep readings and group discussions of texts, data, or methods of inquiry; and COLL 100, exploring the concepts, beliefs, and creative visions, theories, and discoveries that have shaped our understanding of the world. These COLL courses are offered across the academic disciplines and are a great way to explore an area of knowledge that's new or interesting to you.
Your second and third years take a close look at the various academic disciplines and how they approach knowledge through different paradigms and methodologies. COLL 200 courses structure this investigation explicitly. By the end of your second year, you should have a good sense of the discipline you want to pursue in-depth through your major. COLL 300 places academic knowledge into global and cross-cultural contexts. COLL 350 considers difference, equity, and justice, making connections to contemporary life in the United States.
Your major, your electives, and your College Curriculum experience all come together in your senior year. In the COLL 400 course you choose, you'll create original research and share your work with others. Soon, as a knowledgeable, independent thinker, you'll be ready to decide your next steps after W&M as you begin to engage with the world around you.
A Few Notes
These pages describe the COLL Curriculum for students entering in academic year 2021-22 and following. You may apply AP/IB credits to the Knowledge Domains elective courses and to proficiency requirements but not to replace COLL 100, 200, 300, 350, or 400 courses. If you transfer to William & Mary, our advisors will work with you to match your courses and credits to the College Curriculum. Use the navigation menu to explore all parts of the curriculum in more detail.