Every new student entering William & Mary begins as an undergraduate in Arts & Sciences. Our faculty have structured the undergraduate program so that you learn broadly, learn deeply, and gain the experience and skills that shape independent thinkers — engaged in the world around you, and prepared to assume a leadership role in your chosen field.
Your introduction to the excitement and rigor of College-level study begins over the summer, before you even set foot in a classroom. Our College Studies short course introduces you to the liberal arts and helps you begin planning how to shape your first two years. The course also introduces key concepts of information literacy, like how to sift through information, figure out what's useful and reliable, and then responsibly shape that information to serve your goals.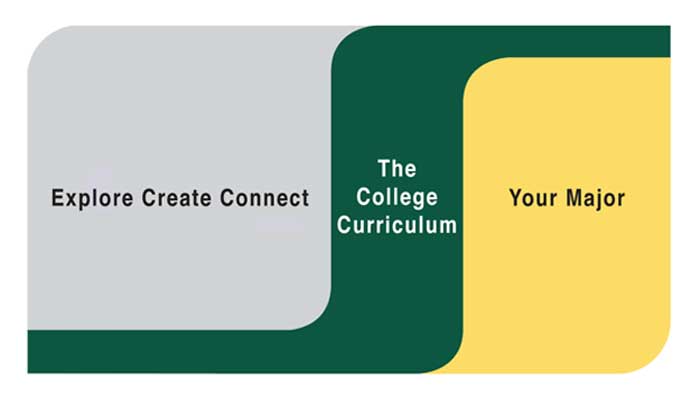 Your undergraduate education unfolds along three complementary pathways:
The College Curriculum This broad framework extends across your time as an undergraduate student. Each year builds toward a greater understanding of how knowledge is constructed, how the academic discplines approach knowledge through different paradigms and methodologies, how theory connects with practice in global and cross-cultural contexts, and how you connect your knowledge and thinking by conducting original research and sharing your work with others.
Your Major We offer dozens of undergraduate majors and minors. Faculty in the academic discipline you choose have designed a major curriculum that ensures you are well prepared for next steps in that field.
Explore, Create, Connect There's no framework for the balance of courses and experiences you choose. Instead, we encourage you to follow your curiosity, your head, your heart. Right here, right now, right at your fingertips, you and your fellow students can engage leading scholars and the greatest amount of knowledge our world has ever known. Make it yours.
Depending on your background and interests, you might be interested in some more pathways with different kinds of opportunities. If you're transferring in from another school, we're ready to help you get started. Most students want some help pulling all the parts together. Relax. We've got you covered with plenty of support for planning your academic career.
"A liberal education, although it has no single fixed definition, is more than a haphazard accumulation of courses. Its essential purpose is to liberate and broaden the mind, to produce men and women with vision and perspective as well as specific practical skills and knowledge." From the William & Mary Undergraduate Catalog
Note: The curriculum for students in the social classes of 2018 and earlier is described in the
Undergraduate Catalog
corresponding to the year of matriculation.