New Book Publication by Lu Ann Homza
Village Infernos and Witches' Advocates: Witch-Hunting in Navarre, 1608-1614 by Lu Ann Homza. Published January 19, 2022 by Pennsylvania State University Press.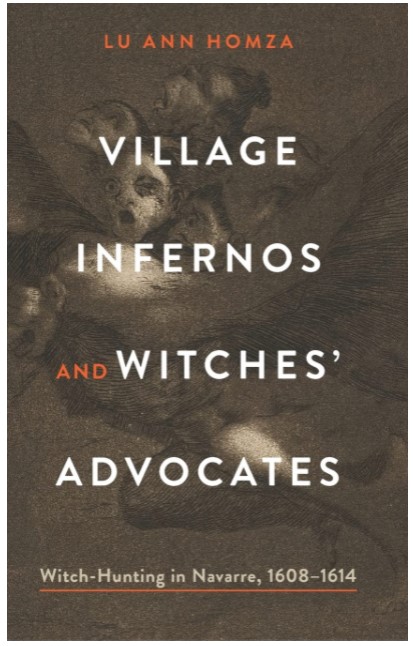 This book revises what we thought we knew about one of the most famous witch hunts in European history. Between 1608 and 1614, thousands of witchcraft accusations were leveled against men, women, and children in the northern Spanish kingdom of Navarre. The Inquisition intervened quickly but incompetently, and the denunciations continued to accelerate. As the phenomenon spread, children began to play a crucial role. Not only were they reportedly victims of the witches' harmful magic, but hundreds of them also insisted that witches were taking them to the Devil's gatherings against their will.
Presenting important archival discoveries, Lu Ann Homza restores the perspectives of illiterate, Basque-speaking individuals to the history of this shocking event and demonstrates what could happen when the Spanish Inquisition tried to take charge of a liminal space. Because the Spanish Inquisition was the body putting those accused of witchcraft on trial, modern scholars have depended upon Inquisition sources for their research. Homza's groundbreaking book combines new readings of the Inquisitional evidence with fresh archival finds from non-Inquisitional sources, including local secular and religious courts, and from notarial and census records.
Expanding our understanding of this witch hunt as well as the history of children, community norms, and legal expertise in early modern Europe, Village Infernos and Witches' Advocates is required reading for students and scholars of the Spanish Inquisition and the history of witchcraft in early modern Europe.