Student project paves way for African American Heritage Trail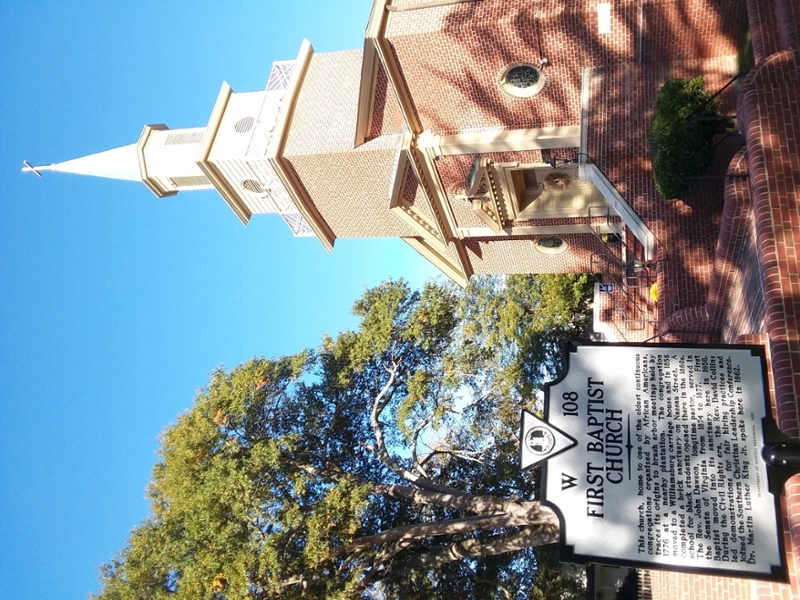 Though Williamsburg was a Black-majority city by the time of the American Revolution, there is relatively little acknowledgment in public spaces of the lives, challenges, and triumphs of African American families who have called the city home for generations.

That may soon change.

Through an innovative partnership between the City of Williamsburg and William & Mary, the brainchild of 1693 Scholars program Director and Professor of Biology Dan Cristol, Williamsburg's future may hold a far more inclusive and complete retelling of the past than what is currently represented in the public spaces of Virginia's colonial capital.

In Summer 2021, Jack Boyd '23 accepted the Lemon Project Gaither-Johnson Summer Research Grant administered through the university's Charles Center for Academic Excellence to conduct research and draft a strategic plan for a city-sponsored African American Heritage Trail that could help illuminate long-overlooked dimensions of Williamsburg's history.

Boyd, a history major, began his research by listening and learning through conversations with longtime residents, W&M professors, and other community stakeholders.  "I spoke with dozens of individuals, cross referencing their sites and stories, slowly but surely putting together a list of 75 sites that would provide a foundation for future research and trail building," Boyd said.

The product of his collaborative research is a 35-page plan, which he presented to the Williamsburg City Council, for the creation of a self-guided tour that would allow residents and visitors to experience largely unseen aspects of African American life in the city over the centuries.  "A heritage trail of this sort can provide students, community members, and tourists the opportunity to learn about . . . Black joy and pain, perseverance and diligence," said Boyd, "through neighborhoods, businesses, educational spaces, and places of worship."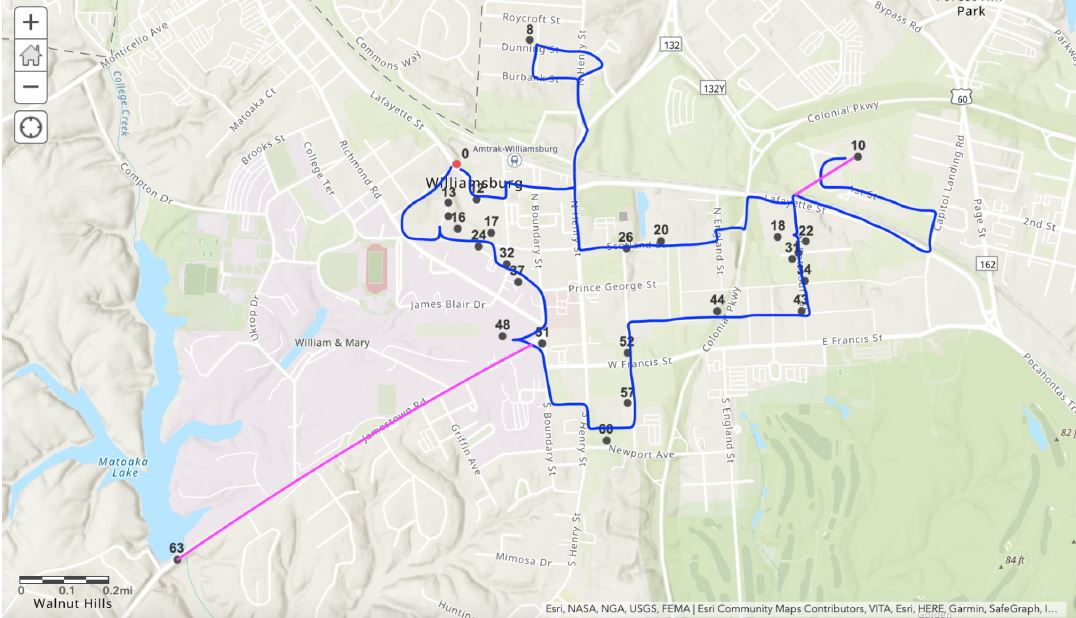 One of those consulted by Boyd is former Williamsburg City Councilman Bobby Braxton, who has worked closely with W&M's Lemon Project, the First Baptist Church, and now the city's Truth and Reconciliation Committee, as its chair.  "The trail will be important to signify the various points of Black leadership in Williamsburg in the past," Braxton said, "and to show how things were back then, so we know what we're looking at today, to figure out where we're going in the future."

African American history has been preserved, taught, and shared creatively among generations of Williamsburg descendants, according to Braxton, but a large gap remains between what is privately known and what is represented to the public through signage or historical markers.  "There are a few sites that are prominent in the city today, places like the Triangle Building, First Baptist Church, Union Church in Highland Park," Braxton said, "but Black history here is mostly buried in a lot of paperwork.  I think it's fair to say it hasn't been fully told."

Assistant Professor of History Jody Lynn Allen served as one of Boyd's advisors on the project.  "In the United States, African American history has been silenced, and Williamsburg is no different," Allen said.  "The creation of the African American heritage trail will go a long way toward rectifying that silencing."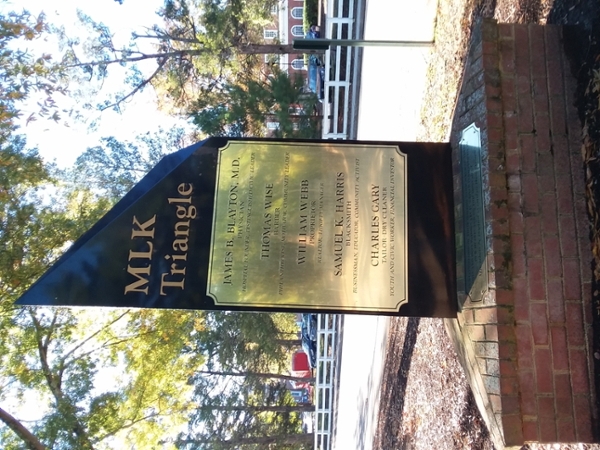 Since the completion of Boyd's draft plan last year, the trail has remained in early planning stages, though according to Williamsburg City Councilman Caleb Rogers, the City's interest in the project has not waned.  "This Heritage Trail will recognize the contributions of Black leaders in our past that helped make Williamsburg what it is today," Rogers said.  "It will tell this story in detail, in the form of a collaborative trail that encourages tourism in our downtown area."

In addition to laying the groundwork for the trail's creation, Boyd's community-centered research, along with that of three other students collaborating on research with City Council, helped inspire a new Charles Center initiative set to launch in Summer 2023, according to the center's director, Elizabeth Harbron.  "We're taking the program that Jack helped pilot to the next level by offering research experiences in our community that allow students to engage directly with public policies and social issues of utmost concern to nonprofits and local government," Harbron said.

City Research Scholars internships will enable students to gain valuable experience in the realms of data collection and analysis, program development, as well as nonprofit management, according to Harbron.  In addition to two students who will research Smart City initiatives and carbon emission reduction with the City of Williamsburg, five others will intern with Williamsburg Farmers Market, Virginia Peninsula Foodbank, Latisha's House Foundation, and other local nonprofits this summer.  "These new undergraduate internships are just one more way that we are preparing courageous thinkers who will graduate from William & Mary ready to tackle the world's biggest problems," Harbron said.

Allen, who directs The Lemon Project at W&M, described the potential transformative power of such community-centered research projects for all involved.  "Anyone who is going to live and function in the world needs to understand that they are not alone," she said, "and opportunities to engage at the local level now will teach students to hear and value the voices of the people around them wherever they find themselves."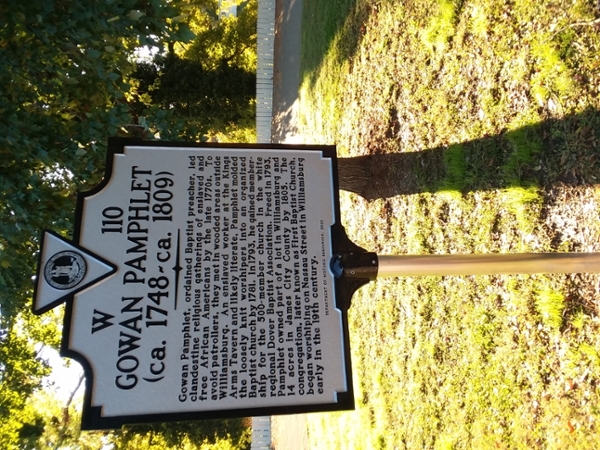 Indeed, Boyd says, the most profound lessons in his case were those learned in conversation with community members—transcending in depth and poignancy anything he had experienced previously in the classroom.   "When you're trusted with a piece of information, especially one that has not seen the light of day in many years, there's a unique sense of necessity," he said, "a deep need to tell their story correctly and purposefully."

Braxton said he was pleased to see W&M students and faculty actively engaged in collaborative community-centered research that has a direct positive effect upon residents' lives by broadening the city's collective historical memory. "Now a lot of things have come to light because of the efforts of people at William & Mary," he said.  "You need to know your history, because if you don't, you don't know from whence you came—why you act the way you act, why you feel the way you do." 

Braxton added, "Knowledge of what happened in the past exists among us descendants, and it's a privilege to play a small part in sharing it."

Interested in changing the world through a Charles Center summer research internship?  Learn more here.