Historic Hopewell Foundation
Historic Hopewell Foundation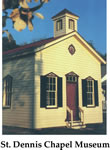 In 1971 a small group of historical enthusiasts formed the Historic Hopewell Foundation with the goal of acquiring and restoring Weston Manor. Thanks to their efforts, Weston was listed that year on the Virginia Historic Landmarks Commision register, and the following year on the National Register of Historic Places. On April 13, 1972, the foundation received its charter from the Commonwealth of Virginia. Since this impressive start, members have energetically pursued a variety of historical projects and publications bearing on Hopewell's history.
Currently, the foundation owns two other historic properties besides Weston. St. Dennis Chapel was built in 1887 for Irish Catholic sailors stationed on gunboats at City Point. Two doors away on Brown Avenue is the National Register-listed Peter Eppes House. While the Eppes house remains a private residence, the chapel houses an exhibit depicting Hopewell's archaeological past.
Weston and St. Dennis Chapel are open to the public from April 31 to October 31. Hours of operation are Monday - Saturday, 10:00-4:30; Sunday 1:00-4:30. During the offseason, tours can be arranged by appointment. Weston can also be reserved for weddings and other special events.
For further information, please contact the Historic Hopewell Foundation or visit their website.
21st Ave & Weston Ln, Hopewell, VA 23860
(804) 458-4682